FCPA Summer Review 2017
International Alert
Introduction
Heading into the second half of the year, the bulk of enforcement activity under the U.S. Foreign Corrupt Practices Act (FCPA) in 2017 continues to be the flurry of settlements entered into during the last few weeks of the Obama administration in January. Indeed, the U.S. Department of Justice (DOJ or Department) and U.S. Securities and Exchange Commission (SEC or Commission) resolved only one formal FCPA enforcement action during the second quarter of 2017: the guilty plea of former United Nations (U.N.) diplomat Francis Lorenzo in April to two counts under the statute. The second quarter did, however, include two quasi-enforcement actions by the DOJ in June—specifically, the "declinations with disgorgement" provided to The Linde Group subsidiaries and CDM Smith. 
The first month of the third quarter produced a small uptick in FCPA enforcement resolutions, including an SEC settlement with Halliburton Company on July 27 (the first corporate disposition entered into by the Trump administration) and three individual enforcement actions: Amadeus Richers on July 19 (the latest guilty plea in the long-running Haiti Teleco case); Ng Lap Seng on July 27 (the DOJ's first jury conviction under the FCPA in six years); and Jeannot Lorenz on July 27 (a former Halliburton executive who resolved civil charges alongside the company). 
Notwithstanding the slowdown in resolved enforcement actions since President Trump's inauguration, we are seeing few indications of how the change in administrations might be affecting the government's approach to enforcing the FCPA, in part because all of the enforcement actions resolved since inauguration day were initiated months or even years earlier. Nonetheless, there are signs that the rise in declinations—decisions by the DOJ or SEC to close an active FCPA investigation without enforcement—which we have observed over the last year, has continued and seemingly escalated in 2017. We have also identified a substantial increase in newly initiated FCPA investigations in 2017, suggesting that while the agencies might have become more selective in the cases they choose to prosecute, possibly triggering the increase in declinations, they remain focused on enforcing potential misconduct under the FCPA more generally. Both trends are in line with statements made in recent months by senior DOJ and SEC officials, indicating that FCPA enforcement remains a priority for the government, and comments by a top DOJ official that prosecutors will be following the facts "wherever they lead," which is sometimes to "stop and close an investigation… or defer to our regulatory colleagues to handle the matter."
Resolved Enforcement Actions
Excepting declinations with disgorgement, the second quarter of 2017 was the first quarter in nearly four years in which U.S. enforcement authorities did not enter into a single corporate disposition under the FCPA, leaving Francis Lorenzo's guilty plea as the quarter's only enforcement action. The start of the third quarter, however, has seen a slight increase in FCPA enforcement activity, with resolved enforcement actions against one corporation and three individuals in July alone, resulting in 18 enforcement actions for the year.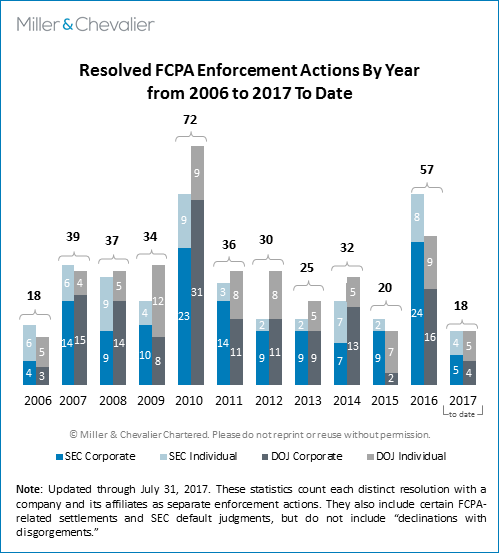 Below are brief descriptions of the July 2017 resolutions, which we will cover in detail with other third-quarter developments in our forthcoming FCPA Autumn Review 2017: 
On July 19, 2017, former fugitive Amadeus Richers pled guilty to FCPA charges in connection with his alleged role in a bribery scheme targeting officials in Haiti's state-owned telecommunications company (Telecommunications D'Haiti S.A.M., or Haiti Teleco) more than 10 years ago. We last reported on the Haiti Teleco case in our FCPA Spring Review 2015, after the Eleventh Circuit rejected an appeal by another defendant convicted on related charges and found that Haiti Teleco is a government instrumentality for the purposes of the FCPA. (See also our coverage in the Spring 2012, Winter 2012, and Autumn 2011 FCPA Reviews for background on the Haiti Teleco case and related prosecutions.) According to the DOJ's press release, Richers, who was indicted on July 12, 2011, was arrested in Panama and extradited to the United States on February 23, 2017. After initially contesting the charges against him, Richers opted to change his plea to guilty. He is scheduled to be sentenced on September 20, 2017, in the U.S. District Court for the Southern District of Florida. To date, nine individuals have been convicted in connection with the Haiti Teleco scandal, including six on FCPA counts. 
On July 27, 2017, the SEC announced that oilfield services company Halliburton Company agreed to pay more than $29.2 million to settle allegations that it violated the FCPA's books-and-records and internal-accounting-controls provisions in connection with its operations in Angola. As part of the settlement, former company vice president Jeannot Lorenz consented to a civil penalty of $75,000 for his alleged role in the misconduct. According to the SEC's Cease-and-Desist Order (Order), Lorenz spearheaded an effort by Halliburton to retain a certain local Angolan company as a means of satisfying local content regulations, in order to qualify for lucrative oilfield services contracts. The SEC alleges that Lorenz, in his effort to formalize a relationship with the local Angolan company, knowingly violated several internal controls at Halliburton and entered into contracts with a stated scope of work that did not accurately reflect the underlying purpose of the agreements. Halliburton reportedly paid more than $3.7 million to the local company, which was owned by a former Halliburton employee with connections to an influential official at Angola's state oil company Sonangol who would ultimately approve the award of subcontracts to Halliburton by large international oil companies. As noted below, Halliburton's press release on the SEC resolution disclosed that the DOJ had previously provided the company with a declination in connection with the same alleged misconduct.
Also on July 27, 2017, a federal jury found Chinese billionaire real estate developer Ng Lap Seng guilty of violating and conspiring to violate the FCPA, among other counts, in connection with alleged bribes paid to U.N. diplomats. We previously reported on the underlying bribery scheme, which was focused on obtaining support for the construction of a multi-billion dollar U.N. conference center in Macau, in our FCPA Spring Review 2016. As discussed below, one of the alleged recipients of Ng's bribes – former U.N. diplomat Francis Lorenzo – pled guilty to conspiring to violate and violating the FCPA, among other charges, on April 27, 2017. 
Enforcement-Related Developments
In June 2017, the courts handed down two important decisions directly affecting the SEC's enforcement capabilities under the FCPA. 
On June 5, 2017, the U.S. Supreme Court issued its long-awaited opinion in Kokesh v. SEC, unanimously holding that the SEC's imposition of disgorgement constitutes a penalty under federal law, as opposed to an equitable remedy, and is therefore subject to a five-year statute of limitations under 28 U.S.C. § 2462. As discussed below, the SEC has relied heavily on its interpretation of disgorgement as an "equitable remedy" not subject to any statute of limitations in its efforts to enforce the FCPA. The restriction on the Commission's ability to seek disgorgement outside of the five-year window will likely force a shift in the SEC's enforcement strategies in a range of cases, particularly those involving older conduct approaching the end of the statute of limitations period or complicated schemes that often require substantial resources and time to investigate.
In another judicial decision, on June 26, 2017, the U.S. Court of Appeals for the DC Circuit, sitting en banc, left in place the panel decision in Lucia v. SEC upholding the constitutionality of the appointment process for SEC administrative law judges (ALJs) and consequently, of the SEC's in-house administrative proceedings. Nonetheless, as noted in our FCPA Spring Review 2017 and further discussed below, the court's decision leaves in place the circuit split with the Tenth Circuit, which has held that the appointment process for SEC ALJs violates the Constitution. It is likely that the Supreme Court will decide to step in at some point to resolve this issue and eliminate the uncertainty that continues to hang over the SEC's use of administrative proceedings as a result of the circuit split.
Declinations
In comparison to the one corporate FCPA enforcement action resolved since the first quarter of the year, we have identified 11 FCPA declinations issued by the agencies over that same time period. Of those 11 declinations, five were issued during the second quarter and the remaining six in July 2017.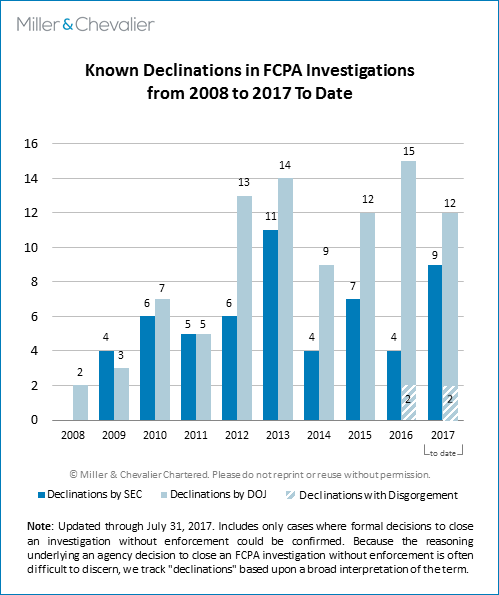 The 21 FCPA declinations we have identified through the end of July 2017 exceed the annual totals for every year since we began tracking the figure, with the exception of 2013. And at their current pace, the enforcement agencies are likely to surpass 2013's total of 25 declinations well before the end of the year. While it is impossible to know all of the reasons behind this uptick, there is a sense that the new administration wants to clear the decks and close investigations into activities with a borderline basis for enforcement. On April 18, 2017, in prepared remarks at the 10th annual Anti-Corruption, Export Controls & Sanctions (A.C.E.S.) Compliance Summit, Deputy Assistant Attorney General Trevor McFadden said that the Fraud Section is "focused on wrapping up old investigations," further noting that prosecutors have a responsibility to "follow the facts wherever they lead us," which is sometimes "to stop and close an investigation…. When we do not have evidence of the requisite criminal intent, there is no justification for a Criminal Division resolution, and we will defer to our regulatory colleagues to handle the matter." (See also our discussion on the duration of FCPA investigations below.)
Of the 11 known declinations issued since end of the first quarter, four are by the SEC and seven are by the DOJ. In most cases, the companies themselves disclosed the agencies' decisions to close these investigations without pursuing enforcement. However, two are "declinations with disgorgement" – a quasi-resolution the DOJ introduced last year in connection with the FCPA Pilot Program in which the Department declines prosecution of a target company subject to a limited set of conditions, including the disgorgement of any illicit gains. (See our FCPA Autumn Review 2016, which analyzes the DOJ's first use of this settlement mechanism with NCH Corporation and HMT LLC). Given their settlement-like nature, we discuss the new declinations with disgorgement provided to the Linde Group and CDM Smith both in the following list and in a separate article below. 
For the time being, we are tracking declinations with disgorgement as "declinations" since the DOJ characterizes them as such, but we will continue to distinguish them as a special subset given the substantive distinctions from historical declinations and other forms of settlement such as non-prosecution agreements (NPAs).
The declinations we have identified since the end of the first quarter of 2017 are:
In addition to the declinations listed above, we are aware of another declination issued by the SEC during the second quarter of 2017. We cannot report any other details for this declination, including the name of the target company, because the declination has not been publicly reported.
As we have noted in the past, our declination totals are subject to revision, with the number of known SEC or DOJ declinations likely to rise in the short term as we learn of additional declinations from the past quarter or year. The reason for this lag in identifying new declination decisions is that companies often wait to announce the closure of investigations in their quarterly securities filings or annual reports, if they choose to disclose them at all.
Known Investigations
In parallel with the recent drop in resolved enforcement actions and uptick in declinations, we have identified 22 new FCPA investigations initiated by the agencies in 2017 to date, which is a substantial number considering the lag inherent in identifying new investigations. For example, as of July 2015, we had identified only four investigations initiated by the enforcement agencies that year, a total that has since risen to 30. This spike in new investigations suggests that the agencies remain focused on enforcing the FCPA, both by pursuing signs of potential misconduct and by investigating allegations that the DOJ says are increasingly being self-reported to the agencies, at least in part under the DOJ's FCPA Pilot Program. 
As the following chart demonstrates, the agencies are on pace to exceed the number of investigations opened in any year over the past decade, with the exception of perhaps 2012. And, as we have noted in prior reviews, the numbers in this chart are only likely to rise, since companies often wait months or even years to disclose the existence of an investigation in their public filings or press releases – with some choosing never to do so.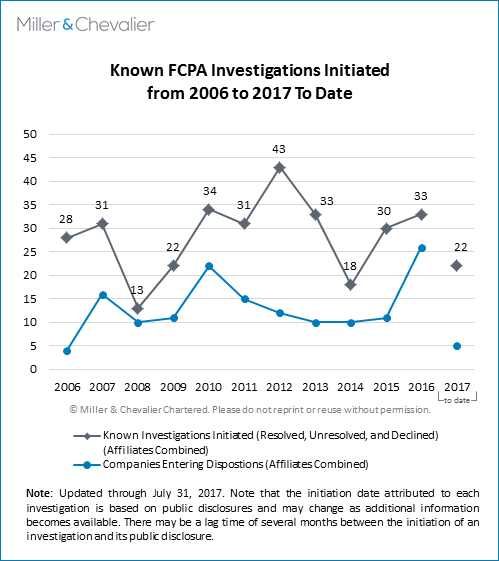 Approximate Duration of FCPA-Related Investigations
Historically, FCPA investigations by the SEC and DOJ have tended to be lengthy affairs, lasting years and, in a few cases, upwards of a decade. Regardless of the outcome of an investigation, the direct and indirect costs to the target company can often climb into the millions, if not tens of millions of dollars, between  legal and professional service fees, reallocation of internal resources, lost opportunities, reduced financial forecasts, and lowered stock value.  
Against this backdrop, SEC and DOJ officials have sought to assure companies in recent years that they are not expected to "boil the ocean" in connection with their internal investigations and that the agencies actually prefer rapid resolutions to protracted inquiries. On April 18, 2017, Deputy Assistant Attorney General Trevor McFadden elaborated on this topic in his prepared remarks at the A.C.E.S. Compliance Summit. McFadden, who is currently responsible for the Criminal Division's Appellate and Fraud Sections, including the FCPA Unit, noted that the Department is "making a concerted effort to move corporate investigations expeditiously." He acknowledged that "[n]o executive wants to deal with a lingering government investigation or the associated costs and distraction from the company's mission" and highlighted the hiring of additional trial attorneys in the FCPA Unit, emphasizing that both he and the "Fraud Section leadership" are focused on concluding old investigations. McFadden stated that his "intent is for [the DOJ's] FCPA investigations to be measured in months, not years."
The Department's FCPA Pilot Program, introduced in April 2016, appears to be accelerating the pace of certain types of investigations. The SEC's and DOJ's issuance of a greater number of declinations (whether under the Pilot Program or independent of it), as discussed above, further suggests that the agencies are seeking to close open investigations where possible. To discuss the durations of open investigations more precisely, we have reviewed FCPA investigations resolved or closed by both agencies over the past 11 years – including investigations resulting in settlements, declinations, convictions, or otherwise closed (collectively "closed") – and sought to identify potentially relevant data points.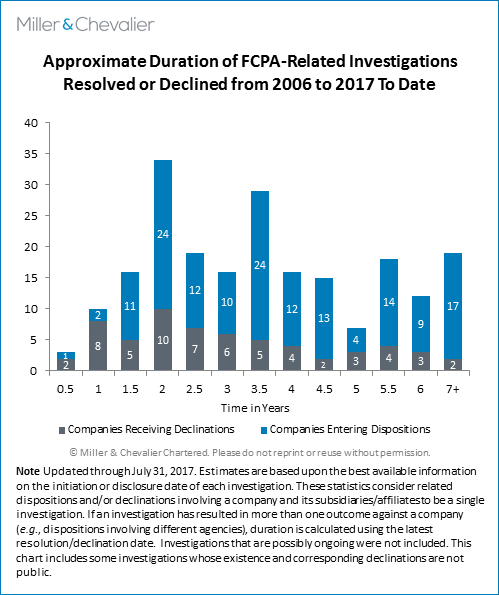 Based on an analysis of publicly available data, corporate FCPA investigations rarely last less than one and a half years, with the average investigation lasting approximately 3.6 years. More than two thirds of the corporate FCPA investigations closed by the agencies between 2006 and 2017 lasted more than two years, and more than a quarter of the investigations during this period lasted five years or more. 
It is too soon to determine whether investigations under the Trump administration will indeed be shorter in length, as there have been a limited number of investigations closed since President Trump took office, all of which were initiated during President Obama's tenure. In the meantime, it is worth noting that the average length of closed investigations in 2017 to date is 3.7 years, compared to an average of 3.6 years for investigations closed in 2016 and 4.5 years for investigations closed in 2015. As the sample size of investigations closed under the Trump administration increases, we will seek to identify any noteworthy trends with regard to their duration.
An interesting data point not captured in the chart above relates to the average length of U.S. investigations that were coordinated with enforcement authorities in other countries. Using as a reference point the internationally-coordinated settlements that we previously identified in our FCPA Winter Review 2017, we have determined that the average length of a U.S. investigation leading to an internationally-coordinated enforcement action is 3.7 years—only slightly longer than the overall average investigation length of 3.6 years. While somewhat counterintuitive, this result may represent the fact that while international coordination requires agency resources that might otherwise be dedicated to investigatory purposes, such coordination may also result in critical evidence or other counterbalancing efficiencies in the U.S. investigation. 
We will continue to track the relevant statistics in an effort to discern any notable changes to the durations of FCPA investigations and to identify the drivers behind any such changes.
DOJ and SEC Staffing Changes and Public Statements
One factor that has likely affected the pace of FCPA enforcement under the new Trump administration is the turnover of SEC and DOJ personnel. As the Trump administration continues to fill positions at both agencies, several individuals who held key roles related to FCPA enforcement have recently left for the private sector. The increased turnover at the agencies – including both the loss of experienced personnel and the integration of new attorneys – has diverted both resources and attention from ongoing enforcement work and could affect the efficiency of the agencies' FCPA enforcement units, at least in the short term. However, the turnover alone is not likely to result in any broader enforcement shifts. Given recent public statements from senior DOJ and SEC officials, it appears that the new administration does not plan significant changes to the agencies' FCPA-related policies and priorities. 
On the DOJ side, on June 7, 2017, President Trump nominated Deputy Assistant Attorney General McFadden, whose responsibility includes the Criminal Division's Fraud Section, to a seat on the U.S. District Court for the District of Columbia. On July 20, the Senate Judiciary Committee approved McFadden's nomination, though there is no indication of when the Senate might vote on his nomination. McFadden will presumably continue in his role at the DOJ in the meantime. He has served in his current role at the DOJ since January 2017, and his remarks about the Department's FCPA enforcement, some of which we noted above, provide some insight into DOJ priorities without any suggestion that these priorities might change with his departure.
A number of changes have affected the Fraud Section, which has the most immediate responsibility for FCPA enforcement within the Department's Criminal Division. In late May 2017, Fraud Section Chief Andrew Weissmann left his post to join DOJ Special Counsel Robert Mueller's investigation of the Russian government's efforts to interfere in the 2016 presidential election. Sandra Moser, who had served as Weissmann's deputy, has taken on the role of acting chief of the Fraud Section until a permanent replacement is named. Moser has played a supervisory role in the section since joining it in 2013, having previously served as an Assistant U.S. Attorney in the District of New Jersey.
On June 23, 2017, Hui Chen, the DOJ's first ever compliance consultant, resigned her position. Chen was hired in November 2015, as discussed in our FCPA Winter Review 2016, and was a member of the Fraud Section. She played a role on many FCPA-related efforts and initiatives, such as the DOJ's "Evaluation of Corporate Compliance Programs" guidance, which we covered in our FCPA Spring Review 2017. The DOJ has indicated a desire to hire a new compliance consultant to replace Chen, but it did not provide a timeline for doing so.
Departures aside, the Fraud Section's FCPA unit overall continues to expand. According to a Global Investigations Review (GIR) press report, the section boosted its ranks with five new trial attorneys in March and April 2017, in addition to several more senior attorneys who joined or departed the FCPA unit during the second quarter of 2017. In addition, in early July 2017, the DOJ published a hiring notice for additional trial attorneys to join the Fraud Section's FCPA or Securities & Financial Fraud (SFF) units.
Meanwhile, the SEC announced on June 8, 2017, that the role of the head of the SEC's Division of Enforcement would be shared by Stephanie Avakian, who was previously the Acting Director of the Enforcement Division, and Sullivan & Cromwell attorney Steven Peikin. Peikin has strong experience in criminal enforcement of securities and commodities laws, both as a former Assistant U.S. Attorney and in private practice, as well as experience in FCPA matters, at least in private practice. Their backgrounds aside, Avakian and Peikin's appointments provide little insight into the Trump administration's priorities with respect to the SEC's enforcement of the FCPA. The most prominent signal appears to be a June 8, 2017, interview in which the Enforcement Co-Directors stated that cyber threats were the greatest threat to the markets and a growing target of enforcement, but also that they expected the SEC to continue to pursue FCPA cases, despite President Trump's previous public statements disparaging the statute.
Also, as we previously noted in our FCPA Spring Review 2017, Kara Brockmeyer, Chief of the SEC's FCPA Unit, left the Commission at the end of April 2017. Charles Cain, who has been with the SEC since 1999 and has played a key role in many significant FCPA enforcement efforts, has been serving as the Unit's Acting Chief since Brockmeyer's departure. 
Another appointment that may have a tangential effect on FCPA enforcement, particularly by the DOJ, is the Senate's August 2, 2017, approval of Christopher Wray as Director of the FBI. Wray formerly served as Assistant Attorney General in charge of the DOJ's Criminal Division, where his role included oversight of FCPA enforcement, after which he entered private practice and his work included FCPA internal investigations and criminal defense. With Wray's experience on both sides of FCPA investigations and prosecutions and with the FBI playing a leading investigative role in many FCPA investigations, we will continue to monitor how the FBI's role in FCPA matters might evolve under Wray's leadership. Notably, Wray's written response to questions from members of the Senate Judiciary Committee included a statement that Wray would expect the FBI to investigate potential FCPA violations by the Trump Organization or President Trump's family members or associates if the FBI were provided credible evidence suggesting that a crime had been committed.
With respect to the agencies' focus on FCPA enforcement, remarks by Attorney General Sessions at an ethics and compliance conference on April 24, 2017, provide some insight into the DOJ's priorities. Sessions observed that corruption covered by the FCPA "increases the cost of doing business, and hurts honest companies that don't pay these bribes," in addition to "harm[ing] free competition, distort[ing] prices, and often lead[ing] to substandard products and services coming into this country." Sessions emphasized that the DOJ "wants to create an even playing field for law-abiding companies" and "will continue to strongly enforce the FCPA and other anti-corruption laws. Companies should succeed because they provide superior products and services, not because they have paid off the right people."
Several days earlier, McFadden addressed an audience at an FCPA conference, elaborating on the Department's priorities under the FCPA. McFadden highlighted the DOJ's commitment "to enforcing the FCPA and to prosecuting fraud and corruption more generally" and noted that the Department "continue[s] to prioritize prosecutions of individuals who have willfully and corruptly violated the FCPA – Attorney General Sessions has stressed the importance of individual accountability for corporate misconduct." 
Another prominent theme stressed by DOJ leadership in public remarks has been the Department's international cooperation. In the same April 20, 2017, remarks, McFadden emphasized the international cooperation between the DOJ and enforcement authorities in foreign jurisdictions, noting that the DOJ "seek[s] to reach global resolutions that apportion penalties between the relevant jurisdictions so that companies seeking to accept responsibility for their prior misconduct are not unfairly penalized for the same conduct by multiple agencies." The following month, McFadden spoke at an anti-corruption summit in Brazil, where he described the Department's international cooperation efforts, highlighting the mechanics of the DOJ's cooperation and coordination with foreign enforcement agencies. Acting Assistant Attorney General Kenneth Blanco echoed many of the same points at a July 19, 2017, Washington, DC event focusing on Brazil's anti-corruption efforts and cooperation between the United States and Brazil.
Official statements aside, we expect any changes in the agencies' FCPA enforcement practices to become clearer as the SEC and DOJ continue their FCPA enforcement efforts under new leadership and as more enforcement-related positions at both agencies are filled. 
International Developments 
On the international front, several countries and prominent multinational companies have either adopted or obtained certifications under International Organization for Standardization (ISO) standard 37001 on Anti-Bribery Management Systems, previously discussed in our FCPA Winter Review 2017. While the adoption of the standard has been quite limited, the standard appears to be gaining some traction both with national standard setting bodies and corporations.
Also during the last quarter, foreign authorities resolved several prominent enforcement actions. In Germany, marine electronics company Atlas Elektronik GmbH (Atlas), a wholly owned subsidiary of ThyssenKrupp AG, agreed to pay a 48 million euro disgorgement as part of a settlement agreement with the Bremen prosecutor's office over bribery allegations related to defense contracts in Greece and Peru. 
In Switzerland, Geneva-based oil company Addax Petroleum paid approximately $32 million to settle a criminal investigation into suspected bribery of Nigerian officials. Notably, Deloitte LLP had earlier resigned as the auditor of Addax's U.K. subsidiary over its apparent inability to obtain satisfactory information from the company regarding the problematic payments that ultimately led to the settlement with the Geneva Public Prosecutor's Office.
In England, former official of the European Bank for Reconstruction and Development (EBRD) Andrey Ryjenko was convicted and sentenced to six years in prison for accepting bribes in exchange for approving EBRD financing. We previously described the bribery scheme involving Ryjenko in our coverage of the FCPA prosecution of Dmitrij Harder, who had allegedly bribed Ryjenko to benefit his consulting company's clients.
In Brazil, meanwhile, holding company J&F Investimentos (J&F) entered into a $3.16 billion settlement with Brazilian authorities over various corrupt practices involving public entities; Brazil's Attorney General brought formal charges of passive corruption against sitting President Michel Temer, which Brazil's lower house of Congress subsequently rejected; and former President of Brazil Luiz Lula da Silva was convicted of passive corruption and money laundering.
Actions Against Corporations
DOJ Issues Declinations with Disgorgement to The Linde Group Companies and CMD Smith
On June 16, 2017, the DOJ issued a declination letter to Linde North America Inc. and Linde Gas North America LLC (collectively, Linde), two private New Jersey companies that form part of Linde Group's Germany-based gas business. As part of the decision, Linde agreed to pay more than $11.2 million in disgorgement and forfeiture. On June 29, 2017, CDM Smith Inc., a privately held Boston-based engineering and construction company, similarly agreed to the DOJ's issuance of a declination with disgorgement to resolve alleged FCPA violations related to CDM Smith's operations in India. In accordance with a declination letter published by the DOJ, CDM Smith agreed to disgorge approximately $4 million in profits from contracts in India allegedly obtained through bribery. 
As discussed in the Introduction section above, these resolutions are only the third- and fourth-ever declinations with disgorgement issued by the DOJ to date. These resolutions also represent the DOJ's sixth and seventh declinations, respectively, under the Department's FCPA Pilot Program since the Program's launch in April 2016.
Linde
According to its declination letter, in October 2006, Linde acquired a subsidiary, Spectra Gases, Inc. Between November 2006 and December 2009, Linde, through this subsidiary, allegedly made improper payments to officials at the National High Technology Center (NHTC), which is wholly owned by the Republic of Georgia. As part of the arrangement, NHTC officials agreed to coordinate the sale of certain income-producing NHTC assets to Spectra Gases, including a "boron column," which produces boron gas. In return, Spectra Gases executives agreed to share profits from the sale of boron gas with the NHTC officials. The DOJ's declination letter states that the NHTC officials received approximately 75 percent of the profits generated by the boron column, while Spectra Gases received approximately 25 percent of the profits. Linde agreed to disgorge $7.82 million of its gains from the sales, as well as to forfeit more than $3.41 million in profits that it withheld from the NHTC officials in connection with the arrangement. The declination letter affirms that Linde cannot take a tax deduction or any other tax benefits in connection with the disgorged funds.
The DOJ's declination letter issued to CDM Smith states that the company, "through its employees and agents, and those of its wholly owned subsidiary in India (CDM India), paid approximately $1.18 million in bribes" to officials in the National Highways Authority of India (NHAI), the country's state-owned highway management agency, in exchange for contract awards. The bribes generally amounted to two to four percent of the value of a respective contract and were "paid through fraudulent subcontractors, who provided no actual services and understood that payments were meant to solely benefit the officials." CDM Smith and CDM India allegedly also paid $25,000 to local officials in the Indian state of Goa in exchange for a water project contract. In the declination letter, the DOJ faulted senior management at CDM India for knowingly approving and participating in the bribery.
In accordance with the declination letter, CDM Smith agreed to pay the disgorgement amount in four monthly installments to the U.S. Treasury, with the last installment due by October 1, 2017. CDM Smith also acknowledged that it could not take a tax deduction for the disgorged funds.
Noteworthy Aspects
Criteria for Declination under the Pilot Program Reaffirmed: The list of factors cited by the DOJ to support both of these declinations with disgorgement in this case largely mirrors the factors cited in previous declination letters under the Pilot Program. These factors include: (1) voluntary self-disclosure; (2) thorough and comprehensive investigation; (3) full cooperation; (4) full disgorgement; (5) continuing enhancements to the company's compliance program and internal controls; and (6) full remediation, including the termination of or disciplinary action against the executives and other employees involved in the misconduct. Although the DOJ has not confirmed whether it will always apply these fixed criteria to decide the appropriateness of a declination with disgorgement in future cases, the list of factors provides a useful reference as to potential exposure under the FCPA or when deciding whether to disclose a potential FCPA violation.
Declination with Disgorgement against Private and Public Companies? As discussed in our FCPA Autumn Review 2016, the DOJ's declination with disgorgement offers a mechanism to impose disgorgement on private companies. Indeed, the DOJ's declinations here support our previous assessment that DOJ may plan to require disgorgement when it issues a declination, except in cases where the SEC requires disgorgement. Like HMT and NCH, the declination targets here are privately-held companies that do not have registered securities with the SEC, and the SEC therefore lacked jurisdiction over Linde Group and its subsidiaries and CDM Smith. This approach contrasts with the DOJ's declinations as to public companies, where the DOJ has usually issued a declination letter – without disgorgement – in parallel with an SEC settlement that required disgorgement. Interestingly, the Supreme Court's recent holding in Kokesh v. SEC that SEC disgorgement claims are subject to the general five-year statute of limitations for civil actions will, as discussed in our article below, constrain the SEC's ability to impose disgorgement for misconduct occurring outside the five-year period unless the statute of limitations has been tolled. Declinations with disgorgement may thus become a mechanism for obtaining disgorgement from an issuer where the SEC might have pursued disgorgement if not precluded from doing so under Kokesh.
Prosecution of Culpable Individuals: Consistent with previous practice, both declinations with disgorgement "do[] not provide any protection against prosecution of any individuals, regardless of their affiliation with" the respective company. The Linde declination letter contains additional language, noting that the letter agreement with the company also does not "provide any protection for individuals against forfeiture claims by the Department for assets in those individuals' control." These conditions echo the remarks of Attorney General Sessions, who emphasized "the importance of holding individuals accountable for corporate misconduct" at the Ethics and Compliance Initiative Annual Conference on April 24, 2017. It is not clear, however, whether the DOJ will pursue charges against any individuals involved in the CDM Smith bribery scheme.
Actions Against Individuals
Former U.N. Official Pleads Guilty to Bribing a Former President of the U.N. General Assembly
On April 27, 2017, former deputy U.N. ambassador from the Dominican Republic Francis Lorenzo pled guilty to new charges relating to his role in a scheme to bribe former president of the U.N. General Assembly John Ashe in exchange for Ashe's support to build a multi-billion-dollar U.N. conference center in Macau. 
As reported in our FCPA Spring Review 2016, Lorenzo initially pled guilty last spring to a range of non-FCPA counts in connection with the same underlying bribery scheme. However, in the lead up to this summer's jury trial of Chinese billionaire real estate developer Ng Lap Seng, a Lorenzo co-conspirator, the DOJ filed a superseding criminal information against Lorenzo that included two new FCPA-related counts – conspiring to violate and violating the FCPA's anti-bribery provision. Lorenzo pled guilty to both counts, as well as other charges. 
Lorenzo was then called on to testify against Ng at length in Ng's recently concluded criminal trial. During nearly two weeks of testimony, Lorenzo admitted to, among other things, receiving bribes from Ng and channeling them to Ashe. After deliberating for a day, on July 27, 2017, a jury convicted Ng of the various bribery, corruption, and money-laundering charges against him. We will cover Ng's conviction in our forthcoming FCPA Autumn Review 2017. 
In addition to Lorenzo and Ng, three other individuals have pled guilty over the past year and a half to non-FCPA charges related to the bribery scheme, including Lorenzo's assistant Jeff Yin in early April 2017. In light of Ashe's unexpected death in October 2016, Lorenzo's guilty plea and Ng's conviction, pending a possible appeal, should draw the prosecution of this scandal to a close. 
U.S. Agency Developments
The Supreme Court Restricts SEC's Disgorgement Claims by Applying Five-Year Statute of Limitations
On June 5, 2017, the U.S. Supreme Court issued an opinion in Kokesh v. SEC, unanimously holding that the SEC's disgorgement claim constitutes a "penalty" under federal law, rather than an equitable remedy, and is therefore subject to a five-year statute of limitations under 28 U.S.C. § 2462. Because many FCPA enforcement actions brought by the SEC have involved disgorgement amounts that dwarf the civil penalties, the Court's ruling is of significant interest to companies and individuals facing scrutiny by the SEC. In the past five years alone, the SEC's FCPA enforcement actions against companies have yielded more than $2 billion, approximately 80 percent of which was from disgorged profits. The SEC was capable of imposing such significant disgorgement claims because it treated disgorgement as an equitable remedy that was not subject to the five-year statute of limitations under Section 2462, which applies to "any action, suit or proceeding for the enforcement of any civil fine, penalty, or forfeiture, pecuniary or otherwise."
As described in our June 6, 2016 client alert, however, a circuit split emerged over whether Section 2462 applies to SEC claims for disgorgement. In Riordan v. SEC and in SEC v. Rind, the DC and Ninth Circuits respectively held that the SEC's disgorgement claims are not subject to the statute of limitations of Section 2462. The Riordan court reasoned that disgorgement orders are not penalties, at least so long as the disgorged amount is causally linked to the improper conduct. In Rind, the court explained that disgorgement of profits is part of the SEC's authority to obtain injunctive relief. 
The Eleventh Circuit, on the other hand, held in SEC v. Graham that the five-year statute of limitations of Section 2462 applies to SEC claims for disgorgement or declaratory relief. As we reported in our FCPA Autumn Review 2016, several courts then challenged the Graham court's ruling. In particular, the Tenth Circuit in SEC v. Kokesh explicitly rejected the Graham court's interpretation of disgorgement (discussed in our June 8, 2017, Client Alert). 
The Kokesh case involved federal securities law violations that had begun 10 years before the SEC initiated the claim. On October 27, 2009, the SEC filed a civil enforcement action, alleging that, between 1999 and 2006, Charles Kokesh misappropriated $34.9 million from various victims. A jury found against Kokesh. 
The U.S. District Court for the District of New Mexico ordered Kokesh to disgorge $34.9 million plus prejudgment interest. The district court's rationale for allowing the SEC to make claims for the full amount – including the funds received outside Section 2462's five-year window – was that disgorgement is not a penalty but a remedy that only covers ill-gotten gains. With respect to the SEC's request for civil penalties, the district court applied the five-year limitations period. On appeal, the Tenth Circuit affirmed and held that disgorgement is neither a penalty nor a forfeiture within the meaning of Section 2462. The Supreme Court granted certiorari to resolve the circuit split. 
The Supreme Court reversed the Tenth Circuit's holding, primarily focusing on two questions regarding the nature of disgorgement within the context of Section 2462: (1) whether the sanction is aimed at a public wrong or a private wrong to an individual; and (2) whether the sanction's purpose is to punish the wrongdoer and deter others from committing similar offense or to compensate victims. The Court stated that the application of these principles "readily demonstrates" that SEC disgorgement constitutes a penalty within the meaning of Section 2462. Specifically, the Court found that SEC disgorgement (1) redresses "violations committed against the United States rather than an aggrieved individual"; (2) is imposed for punitive purposes, because the main goal of disgorgement is deterrence; and (3) is not always merely compensatory. The Court stated that SEC disgorgement "bears all the hallmarks of a penalty: It is imposed as a consequence of violating a public law and it is intended to deter, not to compensate." The Court's ruling resolves the circuit split and affirms that the five-year statute of limitations period under Section 2462 applies to claims for disgorgement. 
Going forward, the SEC will have to substantially adjust its enforcement strategies in certain cases, as the agency will no longer be able to obtain disgorgement for claims that accrue outside a five-year limitations period unless it has secured a waiver from the companies involved. Under Kokesh, the SEC will be pressured to reach quicker resolutions and defendants no longer face the threat of disgorgement on gains earned outside the five-year period. Nonetheless, companies that decline to enter into a tolling agreement may be subject to more aggressive SEC investigation actions.
In a footnote in Kokesh, the Court explicitly left open the question of the SEC's statutory authority to seek disgorgement, echoing several Justices' concern at oral argument. It remains to be seen whether more litigants will challenge the SEC's authority to order disgorgement in the first place.
Divided DC Circuit Upholds Constitutionality of SEC's In-House Adjudications, Maintaining Circuit Split
On June 26, 2017, an equally-divided U.S. Court of Appeals for the DC Circuit, sitting en banc with Chief Judge Garland not participating, denied the petition for review of its August 9, 2016 decision in Lucia v. SEC. Previously discussed in our FCPA Autumn Review 2016, the August 2016 decision had held that an SEC ALJ is an "employee" rather than an "inferior officer" and thus is not required to be appointed under the Appointments Clause in Article II of the U.S. Constitution. 
Four months after the DC Circuit's August decision, the U.S. Court of Appeals for the Tenth Circuit held in Bandimere v. SEC that the SEC ALJs were inferior officers who had been appointed in violation of the Constitution (as discussed in our FCPA Winter Review 2017). With that decision, the Tenth Circuit created a circuit split. On March 10, 2017, the DC Circuit vacated Lucia and scheduled an en banc rehearing (see our FCPA Spring Review 2017). Following oral argument on May 24, 2017, the ten participating judges split evenly. The per curiam judgment leaves in place the August 2016 decision finding that the in-house adjudications at the SEC do not violate the Constitution, leaving in place the circuit split with Bandimere.
International Developments
Countries and Multinational Companies Begin to Adopt and Apply the ISO 37001 Standard on Anti-Bribery Management Systems
On October 14, 2016, the International Organization for Standardization (ISO) published ISO 37001, a standard on Anti-Bribery Management Systems, previously discussed in our FCPA Winter Review 2017. ISO 37001 is a voluntary standard that specifies measures that organizations can implement to help prevent, detect, and address bribery. ISO 37001 applies to both public and commercial bribery and is available for use by "organizations of all sizes, wherever they may do business." Consistent with general practice with respect to ISO standards, organizations may retain third parties to perform audits and certify that their anti-bribery compliance programs are consistent with ISO 37001.
In recent months, three countries have adopted ISO 37001 as a voluntary national certification standard – Peru, Singapore, and the Philippines. Utilizing ISO 37001 as a national standard may signal that governmental entities in these countries will look favorably upon certification – for example, in the context of public tenders, or when an organization seeks to contract with the government – as an indication that the organization maintains a comprehensive anti-bribery compliance program. While some countries may mandate certification in the future, the adoptions leave the voluntary nature of ISO 37001 certification undisturbed thus far. 
Peru. On April 4, 2017, the official Peruvian newspaper, El Peruano, published Peru Technical Standard ISO 37001, "Sistema de Gestión Antisoborno" (in English, "Anti-Bribery Management System"). Peru's National Institute of Quality (INACAL), the highest technical authority of the National Quality System, as well as Peru's ISO member body, first sought public comment from March 17 through March 26, 2017. Peru ultimately issued ISO 37001 verbatim (translated into Spanish) as its Technical Standard. During a conference on April 4, 2017, INACAL executive president, Rocío Barrios Alvarado, stated: "The Technical Standard is applicable to small, medium, and large businesses in both the public and private sectors, as well as to non-profit organizations." Barrios Alvarado noted INACAL's desire to promote implementation of the standard in the private sphere, including the possibility of making implementation of the Technical Standard a requirement for major public bidding processes. 
Singapore. On April 12, 2017, Singapore's Corrupt Practices Investigation Bureau (CPIB) and the government agency Standards, Productivity and Innovation for Growth Singapore (SPRING) jointly launched Singapore Standard ISO 37001 (SS ISO 37001). CPIB's Working Group on Anti-Bribery Management Systems represented Singapore as a participating member of the ISO project committee responsible for the development of ISO 37001. SPRING, which is part of Singapore's Ministry of Trade and Industry, operates as the national standards body, as well as Singapore's ISO member body. SPRING sought public comment on SS ISO 37001 from February 12 through March 27, 2016, prior to the publication of ISO's 37001 standard. SS ISO 37001 as published is identical to ISO 37001, with an added "National Foreword" preceding the ISO's "Foreword" the only distinction. According to SPRING and CPIB, SS ISO 37001 "is based on internationally recognized good practices [and] provides guidelines to help Singapore companies strengthen their anti-bribery compliance systems and processes and ensure compliance with anti-bribery laws." SPRING and the Singapore Accreditation Council have stated that they will develop an accreditation mechanism for certification bodies by the end of 2017. Accredited certification bodies will then be able to certify that a company's anti-bribery management system meets the requirements of SS ISO 37001. 
Philippines. On April 10, 2017, the Bureau of Philippine Standards (BPS), part of the country's Department of Trade and Industry (DTI), announced that it has adopted ISO 37001 as a Philippine National Standard (PNS). The BPS's announcement recited the scope and components of the new standard, indicating that it "sets out requirements and provides guidance for a management system designed to help an organization to prevent, detect, and respond to bribery and comply with anti-bribery laws and voluntary commitments applicable to its activities."
In addition, several commercial organizations claim to have already received ISO 37001 certification. Italian energy company Eni announced on January 25, 2017, that it received ISO 37001 certification from RINA Services S.p.A., an Italian company. The Emirates Classification Society in the United Arab Emirates publicized on June 10, 2017, that it issued ISO 37001 certification to Bosch Middle East, a subsidiary of German automobile parts manufacturer Robert Bosch GmbH. On June 27, 2017, French company Alstom stated in a press release that it had received ISO 37001 certification of its European operations from AFNOR Certification, the French Standardization Association. And on July 13, 2017, intellectual property company CPA Global announced in a press release that it received ISO 37001 certification from ETHIC Intelligence. 
Other multinational organizations have indicated their intention to seek ISO 37001 certification. On March 7, 2017, American technology company Microsoft Corporation published on its blog that it intends to seek ISO 37001 certification for its anti-bribery program. Soon after, on May 3, 2017, another American company, Wal-Mart Stores, Inc., discussed its search for an independent company to certify its compliance with ISO 37001. 
The certification announcements to date reflect an opaque certification process, suggesting a lack of uniformity as to the process itself or as to the accreditation or qualifications of the certifying bodies. While the benefits of certification also remain less than clear, the announcements indicate that the new standard nonetheless holds some appeal for multinational companies. Potential benefits may include substantive improvements to internal compliance systems or a competitive advantage, although it is certainly plausible that some companies may be interested in certification primarily for its public relations value. As more companies express their position vis-à-vis the new standard, its value – or lack thereof – should become more apparent.
Atlas Elektronik Settles with German Prosecutors over Alleged Bribery of Public Officials in Greece and Peru
On June 2, 2017, Atlas Elektronik GmbH (Atlas), a marine electronics company based in Bremen, Germany, entered a 48 million euro disgorgement agreement with the Bremen prosecutor's office to settle bribery allegations related to defense contracts in Greece and Peru. Atlas is a wholly owned subsidiary of ThyssenKrupp AG, a German multinational conglomerate.
According to a press release by the Bremen prosecutor's office, Atlas employees allegedly paid a Greek sales agent more than13 million euros to secure orders for submarine sonar systems. Some of the money was allegedly funneled to Greek officials through bank accounts in London and Switzerland. The prosecutor's office also found evidence of bribes to an intermediary in connection with the company's sale of torpedoes to Peru's navy. The prosecutor's office faulted a former Atlas manager, whom it did not name, for failing to set up effective compliance controls to prevent the violations. The prosecutor's office stated that the settlement concludes its investigation of Atlas, but not ongoing probes of Atlas staff and their accomplices – 17 individuals in total.
The Bremen prosecutor's office began its investigation of Atlas in 2013. According to an article in GIR, Atlas first informed the prosecutor's office of bribery concerns relating to the Greek defense contract in 2010 following an internal investigation. The prosecutor's office, however, believed it did not have jurisdiction to investigate the issue due to insufficient links to Germany. The GIR article indicates that the prosecutor's office changed its position after a tax audit of a related company, Rheinmetall Defence Electronics (Rheinmetall), revealed new information. On August 27, 2013, German police raided the offices of Atlas and Rheinmetall seeking evidence of alleged bribes to Greek officials and tax evasion. The investigation later expanded to Atlas's defense contracts in Peru and Turkey.
The settlement requires Atlas to disgorge profits from the contracts at issue in both Greece and Peru. According to another GIR article, Atlas received credit for conducting internal investigations, self-reporting, and remediating issues. Atlas undertook a series of minor investigations into individual allegations of foreign bribery in the mid-2000s. It self-reported the potential misconduct of its employees related to the Greek sonar contract in 2010. After German authorities raided its corporate headquarters in August 2013, the company launched a major probe in 2014 into its employees' conduct abroad. Finally, according to GIR, Atlas also hired an independent adviser to create a new compliance program, including an overhaul of the company's sales procedure and new guidelines for dealing with third parties.
According to ThyssenKrupp's August 12, 2015, Interim Management Report, Greek state prosecutors filed civil claims against Atlas in February 2015 for bribing Greek officials in connection with the same events. The proceedings appear to remain open, with Greek authorities seeking compensation "in the mid two-digit million euro range."
Former EBRD Official Convicted and Sentenced by U.K. Authorities for Accepting Bribes; Defendant in Related FCPA Prosecution Also Sentenced
According to the Crown Prosecution Service, on June 20, 2017, the Central Criminal Court for England and Wales sentenced Andrey Ryjenko, a former official of the European Bank for Reconstruction and Development (EBRD), to six years in prison, following his June 6, 2017, jury conviction for conspiring to make or accept corrupt payments and money laundering. Ryjenko is the unnamed EBRD official featured in our April 2015 coverage of the FCPA prosecution of Dmitrij Harder, who was accused of making the bribes at issue. Our FCPA Summer Review 2016 covered Harder's guilty plea and included additional information about the alleged corruption scheme. 
The EBRD is an international development bank, owned by 65 countries including the United States, whose mission is to finance development projects in emerging economies in Europe. Ryjenko's role at the EBRD involved reviewing loan and equity financing applications from companies. The jury found that, between 2008 and 2009, Ryjenko accepted more than $3.5 million in bribes from Chestnut Consulting Group (Chestnut), Harder's U.S.-based financial services company, in exchange for approving EBRD loans and investments for two of Chestnut's clients in the oil and gas sector. Chestnut allegedly paid the bribes to Ryjenko's sister, Tatjana Sanderson, as fees for "consulting" and "other services" that Sanderson had not provided. The EBRD subsequently approved two applications for financing for two Chestnut clients, resulting in an $85 million investment and a 90 million euro loan for one, and a $40 million investment and a $60 million loan for the other. Sanderson was a co-defendant in the U.K. case but was declared unfit to stand trial due to mental health reasons.
Elspeth Pringle, a prosecutor in Ryjenko's case, stated that cross-border cooperation with other jurisdictions contributed to Ryjenko's prosecution, singling out the United States. Harder testified in Ryjenko's trial via video, while himself in federal custody in the United States pending his sentence. 
Ryjenko's conviction follows Harder's April 2016 guilty plea to two counts of violating the anti-bribery provisions of the FCPA in connection with the bribery scheme. As described in our FCPA Summer Review 2016, Harder admitted in his plea agreement to funneling bribes to Ryjenko through Sanderson in exchange for the EBRD's approval of financing for Chestnut's clients.  On July 18, 2017, Judge Paul Diamond of the U.S. District Court for the Eastern District of Pennsylvania sentenced Harder to five years in prison.  
Addax Petroleum Settles with the Geneva Public Prosecutor's Office over Alleged Improper Payments to Nigerian Officials
On July 5, 2017, the Public Prosecutor's Office in Geneva (Prosecutor's Office) announced that Addax Petroleum (Addax), a Geneva-based oil company, had paid 31 million Swiss francs (approximately $32 million) to the state of Geneva to settle a criminal investigation into suspected bribery of Nigerian officials. The settlement concluded the criminal proceedings against two members of the company's management and the company itself under Article 53 of the state's penal code, which allows the Prosecutor's Office to drop prosecution if the accused made reasonable attempts to pay compensation for wrongdoing. A press report by Reuters identifies the two accused individuals as Addax's chief executive officer and its legal director. China's state-owned oil company Sinopec acquired the Swiss company in 2009.
According to the press release, the Prosecutor's Office had charged Addax and the two individuals for making "unjustified payments totaling several tens of millions of dollars" to a company and several lawyers in Nigeria. The Prosecutor's Office initially suspected that some of these payments may have been used to illegally compensate Nigerian officials in exchange for promoting Addax's activities in Nigeria. In fact, press reports indicate that auditing firm Deloitte LLP flagged the same suspicious payments in a letter filed in December 2016 with U.K. authorities to report its resignation from the 2015 audit of Addax's U.K. subsidiary Addax Petroleum United Kingdom Limited (APUK), which houses the company's Nigerian operations. Deloitte's letter premised its resignation on the auditor's inability to obtain "satisfactory explanations" regarding the amount of and basis for an $80 million payment to a Nigerian engineering company and more than $20 million in payments allegedly made to "legal advisers" in Nigeria. The letter further stated that Deloitte had "received a number of whistleblowing allegations both from within and external to Addax, some of which allege that such payments have been made to bribe foreign government officials and that certain amounts have been embezzled by certain members of management within Addax Petroleum Group."
After a four-month investigation, the Prosecutor's Office concluded that the payments in question "were not sufficiently documented and, as a result, uncertainties remained as to their legality," although no criminal intent was established. The Prosecutor's Office highlighted "organizational defects within Addax" with regard to internal controls, but credited the company's cooperation during the investigation, its management overhaul, and the steps the company had taken to improve its internal anti-corruption procedures. 
Developments in Brazil's Operation Car Wash Include a $3.16 Billion Corporate Fine and Former President Lula's Conviction
The three months since our FCPA Spring Review 2017 saw several important anti-corruption developments in Brazil. All of them stem from Operation Car Wash, which originally began as an investigation into alleged corruption involving Brazil's national oil company Petróleo Brasileiro S.A. (Petrobras). The latest consequences of what may now be the largest corruption probe in history include a $3.16 billion fine agreed to by J&F Investimentos (J&F) with Brazilian authorities, the decision by Brazil's Attorney General to formally charge current President of Brazil Michel Temer with passive corruption (i.e., the receipt of bribes), the conviction of Brazil's former President Luiz Lula da Silva for passive corruption and money laundering, and the dissolution of the Brazilian Federal Police Operation Car Wash Task Force. 
J&F's Leniency Accord 
In May 2017, J&F, the owner of the world's largest meatpacking company, JBS S.A., entered into a leniency accord with Brazil's Federal Public Prosecutor's Office (Ministério Público Federal, or MPF). As part of the deal, J&F agreed to pay 10.3 billion reais (approximately $3.16 billion) over the next 25 years. Authorities began to investigate J&F after incriminating information surfaced about the company in the course of investigations related to Operation Car Wash. 
According to a statement released by the MPF, the agreement marks the world's largest ever leniency accord by settlement value. The broadly drafted leniency accord covers various allegations against J&F, focusing on the company's corrupt practices involving various public entities, including pension funds of state-owned companies, state-run banks, and the Ministry of Agriculture. 
In a parallel agreement, J&F executives Joesley and Wesley Batista admitted to spending approximately 600 million reais (approximately $190 million) to bribe more than 1,900 politicians over the last decade. Both obtained immunity in exchange for paying a fine and cooperating with authorities. Notably, as discussed further below, Joesley Batista provided Brazilian authorities a March 2017 recording, in which Brazil's President Temer allegedly assents to paying bribes to prevent Eduardo Cunha, the former Speaker of the Chamber of Deputies (Brazil's lower house of Congress) who is serving a prison sentence for corruption-related offenses, from cooperating with Brazilian authorities. 
President Temer Formally Charged
On June 26, 2017, Brazil's Attorney General, Rodrigo Janot, issued formal charges against President Temer for passive corruption based on the testimony obtained from J&F executives as part of the company's leniency accord, described above. On August 2, the Chamber of Deputies voted on whether to approve the charges, falling short of the two-thirds majority required to transfer the case against Temer to Brazil's Federal Supreme Court.
There are indications, however, that Temer may face obstruction of justice charges in the same case based on a June investigation report from the Federal Police. Any such charges will have to again undergo a vote in the Chamber of Deputies as to whether to send the case to the Supreme Court. If the Supreme Court accepts the case – which it has the discretion to decline – President Temer will be obligated to step down for 180 days while the matter is adjudicated. In Temer's absence, the current Speaker of the Chamber of Deputies, Rodrigo Maia, would serve as the interim President. Notably, Rodrigo Maia is the target of another Operation Car Wash-related investigation, although he has denied all wrongdoing and has not been formally accused.
Former President Lula Convicted
We have previously covered the corruption investigation and subsequent charges against former President of Brazil Luiz Inacio Lula da Silva that also formed part of Operation Car Wash. (See, e.g., our FCPA Autumn Review 2016.) On July 12, 2017, Lula was convicted of passive corruption and money laundering and sentenced to 9.5 years in prison for allegedly accepting more than $1 million in kickbacks from the engineering firm OAS S.A. As we previously described, OAS allegedly paid the kickbacks, at least in part, in the form of renovations to a beachfront apartment that Lula allegedly owned. In exchange, Lula allegedly helped the firm win contracts with Petrobras. 
Near the end of his 200+ page sentencing opinion, Judge Sergio Moro appeared to address allegations that his decision to convict Lula was politically-motivated. He wrote, "[t]he present conviction does not bring this judge any personal satisfaction, quite the contrary. It is regrettable that a former president has been criminally convicted, but [the conviction] is the result of the crimes he committed and not the fault of the normal application of the law." Moro continued, "[b]e you never so high the law is above you."
To date, Lula is the highest-ranked official to be convicted in Operation Car Wash. Previously, Cunha, as former Speaker of the House of Deputies, claimed this title. (See our FCPA Spring Review 2017). Lula continues to deny wrongdoing and expressed plans to appeal the conviction. He is currently the target of several other Car Wash-related investigations.  
Dissolution of the Federal Police's Operation Car Wash Task Force
In a development whose effects on ongoing and new Car Wash investigations will likely become more apparent over time, on July 6, 2017, the Brazilian Federal Police announced a decision to dissolve its Operation Car Wash's Task Force. The Federal Police's Task Force served as the primary investigation team for Operation Car Wash and its many sub-investigations. Instead of continuing to act as an independent investigative unit, the members of the Task Force will join the Federal Police's larger Anti-Corruption and Misappropriation of Public Funds Division. The Task Force's dissolution, along with a significant reduction to the Federal Police's budget, has caused some to question whether these acts were aimed at curtailing Operation Car Wash.
In an official statement announcing the decision, the Federal Police reaffirmed its commitment to combating corruption and to continuing Operation Car Wash, stating that "the measure aims to prioritize even more investigations that have the potential to damage the national treasury, since it allows the increase of specialized personnel in the fight against corruption and money laundering and facilitates the exchange of information." 
In response, the MPF released a statement criticizing the decision of the Federal Police. The MPF argued that there are currently not enough investigators available to conduct investigations related to Operation Car Wash—a problem that will be exacerbated by the dissolution of the Federal Police's Task Force. The MPF's Operation Car Wash Task Force, a specialized unit charged with prosecuting alleged misconduct related to Operation Car Wash, will remain active, suggesting that, at least from the prosecution's perspective, Operation Car Wash is far from over. 
Miller & Chevalier Upcoming Speaking Engagements and Recent Articles
Upcoming Speaking Engagements
Recent Articles
| | |
| --- | --- |
| 08.03.17 | Trade Compliance Flash: New U.S. Sanctions on Iran, Russia, and North Korea Signed into Law (Barbara D. Linney) |
| 06.30.17 | Trade Compliance Flash: U.S. Trade Agencies Request Comments from U.S. Companies on Harm Resulting from Trade and Investment Agreements (Richard A. Mojica, P. Welles Orr, Patrick M. Stewart) |
| 06.29.17 | What's Next for President Temer? (Leah Moushey) |
| 06.19.17 | Getting the Deal Through - Anti-Money Laundering 2017: Global Overview and United States Chapters (Lamia R. Matta, Ann Sultan) |
| 06.15.17 | US Foreign Corrupt Practices Act – IBA Update (Ann Sultan) |
| 06.14.17 | Trump Administration Imposes Sanctions against Eight Members of the Venezuelan Supreme Court (Timothy P. O'Toole, Abigail E. Cotterill) |
| 06.08.17 | Kokesh v. SEC: The Supreme Court Reins in SEC Enforcement (Saskia Zandieh) |
| 06.07.17 | After Kokesh, New Pressure on SEC to Settle Faster (Marc Alain Bohn) |
| 06.06.17 | A Review Of Recent Cases Against Execs: Part 2 (Kirby D. Behre, Lauren E. Briggerman, Dawn Murphy-Johnson) |
| 06.05.17 | A Review Of Recent Cases Against Execs: Part 1 (Kirby D. Behre, Lauren E. Briggerman, Dawn Murphy-Johnson) |
| 06.01.17 | Executives at Risk: Navigating Individual Exposure in Government Investigations – Spring 2017 (Kirby D. Behre, Lauren E. Briggerman, Dawn E. Murphy-Johnson, Jonathan D. Kossak, Adam W. Braskich, Sarah A. Dowd, Ian A. Herbert, Aiysha S. Hussain, Nicholas R. Metcalf, Dwight B. N. Pope) |
| 05.23.17 | Trade Compliance Flash: Trade Policy Update on NAFTA 2.0 – Renegotiation to Begin in August (Richard A. Mojica, P. Welles Orr) |
| 05.19.17 | Trade Compliance Flash: OFAC Imposes Sanctions Against Eight Members of the Venezuelan Supreme Court (Timothy P. O'Toole, Abigail E. Cotterill) |
| 05.09.17 | U.S. Export Controls and Sanctions Risks in the Manufacturing Supply Chain (Timothy P. O'Toole, Abigail E. Cotterill) |
| 05.04.17 | 13 FCPA Enforcement Actions Resolved In 2017 So Far (Marc Alain Bohn, Michael Skopets, Leah Moushey) |
---
Editors: John E. Davis, James G. Tillen, Marc Alain Bohn,* Alice C. Hsieh,* Michael Skopets,* and Leah Moushey
Contributors: Katherine E. Pappas and Summer Associates Tony Ji, Michelle Ramus, and Jae Sung Kim 
---

The information contained in this communication is not intended as legal advice or as an opinion on specific facts. This information is not intended to create, and receipt of it does not constitute, a lawyer-client relationship. For more information, please contact one of the senders or your existing Miller & Chevalier lawyer contact. The invitation to contact the firm and its lawyers is not to be construed as a solicitation for legal work. Any new lawyer-client relationship will be confirmed in writing.

This, and related communications, are protected by copyright laws and treaties. You may make a single copy for personal use. You may make copies for others, but not for commercial purposes. If you give a copy to anyone else, it must be in its original, unmodified form, and must include all attributions of authorship, copyright notices, and republication notices. Except as described above, it is unlawful to copy, republish, redistribute, and/or alter this presentation without prior written consent of the copyright holder.