FCPA Autumn Review 2017
International Alert
Introduction
The second half of 2017 to date has seen increased enforcement activity related to the U.S. Foreign Corrupt Practices Act (FCPA) by both the Securities and Exchange Commission (SEC or Commission) and the U.S. Department of Justice (DOJ or Department). Since July, the agencies have resolved more than 10 cases against corporations and individuals (including a nearly $500 million FCPA settlement with Telia Company AB), issued several declinations, and initiated at least five new investigations under the statute.
Overall, the agencies' activity during the first ten months of the Trump administration indicates an absence of any significant departure from previous FCPA enforcement trends. Statements by senior DOJ and SEC officials relating to the statute continue to support robust anti-corruption enforcement. For example, following similar pronouncements from the DOJ during the first part of the year, the Chair of the SEC affirmed in early September 2017 that there is not going to be some "dramatic shift in priorities at the SEC" related to FCPA or other enforcement areas, and made similar statements in a congressional oversight hearing later the same month.   
In public remarks in September and October 2017, DOJ officials, including Deputy Attorney General Rod Rosenstein, announced that both the "Yates Memorandum" (the controlling guidance for DOJ enforcement policy related to companies) and the FCPA "pilot program" were under review and that changes could be announced later in the fall of 2017. The results of that review have not been publicly reported to date, and some members of Congress and commentators have raised concerns that the contemplated changes could weaken the DOJ's enforcement posture. Given various statements by both DOJ and SEC officials, it is likely that any such revisions will reflect a continued focus on enforcement against individuals and actions that companies should take to show cooperation for purposes of the exercise of prosecutorial discretion and the application of mitigating factors. For example, in a speech to the U.S. Chamber of Commerce's Institute for Legal Reform on October 25, 2017, the Deputy Attorney General stated that, "[w]e are establishing a Working Group on Corporate Enforcement and Accountability, which will offer recommendations on promoting individual accountability and corporate cooperation," though he offered no further details.  
Resolved Enforcement Actions
The five corporate enforcement actions resolved in the second half of 2017 bring the total for the year to 13. Three of the most recent corporate dispositions came in the form of administrative settlements with the SEC, while the other two were a deferred prosecution agreement (DPA) with the DOJ and a guilty plea.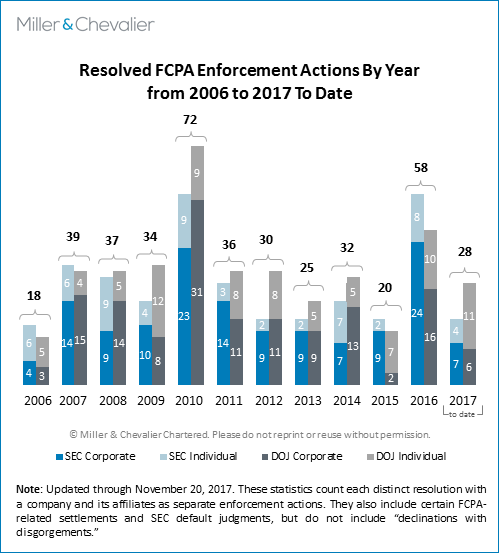 The DOJ's and SEC's parallel resolutions with Swedish telecommunications company Telia Company AB represent the largest and, arguably, the most prominent corporate enforcement action of 2017, even when considering the corporate dispositions entered into by the DOJ and SEC in January, during the last three weeks of the Obama administration. Telia's resolutions with the DOJ and SEC, on September 21, 2017, form part of a coordinated settlement with Dutch and Swedish enforcement agencies relating to alleged bribes paid to a relative of the President of Uzbekistan to obtain and retain business in that country. The combined U.S. settlement includes DOJ's DPA with Telia over charges of violating the FCPA's anti-bribery provisions, an administrative settlement between the company and the SEC, and a guilty plea by Telia's Uzbek subsidiary Coscom LLC to conspiracy to violate the FCPA's anti-bribery provisions.
Telia's overall settlement amount, to U.S. and foreign enforcers, exceeds $965 million, approximately $483 million of which is due to the DOJ and SEC. This sum makes Telia's settlement with the U.S. authorities the fifth highest settlement amount under the FCPA since the inception of the statute. Of note, four of the top ten settlement amounts have come in 2016 and 2017, and only four of the top ten settlements were reached before 2014, reflecting, in part, the DOJ's and SEC's increased enforcement leverage against corporations in recent years.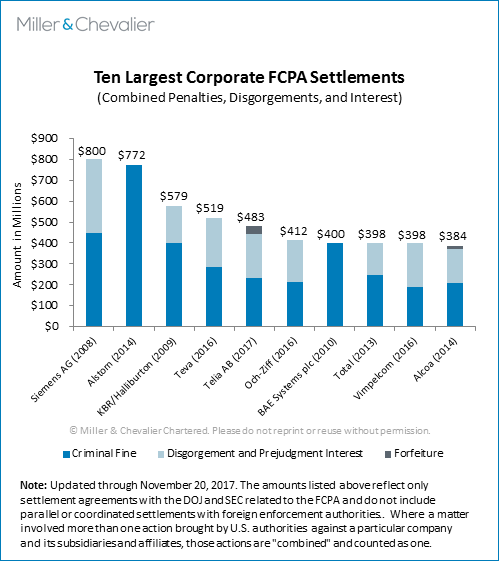 The other two corporate resolutions reached in the second half of 2017 include the SEC's administrative settlements with Texas-based oilfield services company Halliburton Company and with Massachusetts-based manufacturer of healthcare diagnostic products Alere Inc.
As we noted in our FCPA Summer Review 2017 and discuss in greater detail below, the SEC's July 27, 2017, settlement with Halliburton resolved allegations that the company violated the FCPA's books-and-records and internal-accounting-controls provisions in connection with the company's operations in Angola. As noted below, a former vice president of the company also settled with the SEC in connection with these allegations. Also, as discussed below, Alere, Inc. resolved an investigation with the SEC related to various accounting violations, including with regard to improper payments to officials in Colombia and India.  
In addition, two companies recently disclosed financial reserves relating to expected FCPA-related resolutions. First, SBM Offshore N.V. (SBM) issued a statement that the company has set aside $238 million in anticipation of a settlement with the DOJ, "in relation to their reopened investigation into legacy issues and Unaoil." The reference to the DOJ's "reopened investigation" relates to the DOJ's late-2014 declination that was announced in connection with SBM's November 2014 settlement with Dutch authorities, which we discussed in our FCPA Winter Review 2015. The SBM statement noted specifically that "the DoJ has now concluded that the evidence not only supports jurisdiction in the United States but also requires a further penalty in the United States." Second, Wal-Mart announced in an SEC filing on November 16, 2017, that it has set aside $283 million in connection with a possible resolution with the DOJ and SEC. An enforcement resolution with the agencies would end the long-standing investigation of alleged payments associated with store openings in Mexico, which received national attention as a result of a 2012 New York Times article on the matter. The investigation thereafter expanded to allegations involving company activities in Brazil, China, and India, among others, as disclosed in the company's securities filings.  
Alongside these corporate resolutions, the agencies have been active in the second half of 2017 in resolving enforcement actions against individuals. In the FCPA Summer Review 2017, we previewed three enforcement actions against individuals that were resolved in July of 2017, which include a guilty plea and a guilty verdict in two separate criminal actions and an administrative SEC settlement. Those actions, discussed in greater detail in this Review, are:
On July 19, 2017, Amadeus Richers pled guilty to FCPA charges in connection with his alleged role in a bribery scheme involving officials at Haiti's state-owned telecommunications company (Telecommunications D'Haiti S.A.M. or Haiti Teleco). Richers, who was a fugitive until his extradition from Panama in February 2017, was sentenced on September 24, 2017, to time served of approximately seven months. The bribery scheme, which took place more than 10 years ago, has led to a number of related individual prosecutions, most of which were concluded at the beginning of this decade.  
As noted above, Halliburton's July 27, 2017, administrative settlement with the SEC was accompanied by a settlement between the SEC and former company vice president Jeannot Lorenz, who consented to a civil penalty of $75,000 for his alleged role in the misconduct alleged against the company.
On July 27, 2017, a jury in the Southern District of New York issued a guilty verdict in the trial of Chinese billionaire real estate developer Ng Lap Seng for violating and conspiring to violate the FCPA, in addition to other charges. As discussed below, the allegations against Ng related to alleged bribes paid to United Nations (U.N.) diplomats in exchange for their influence over his company's role in a multi-billion-dollar construction project.
In addition to these enforcement actions, the final quarter of 2017 to date has already seen a flurry of resolved criminal enforcement actions against individuals. We will cover these in detail with other fourth-quarter developments in our forthcoming FCPA Winter Review 2018, but linked here are public releases related to these actions:
Trends in Enforcement Against Individuals
The recent enforcement actions against individuals come against a backdrop of statements by DOJ and SEC officials regarding the agencies' efforts to hold individuals accountable in the context of corporate FCPA enforcement. The following chart tracks charges (whether civil or criminal) and resolved enforcement actions against individuals, accompanied by corporate enforcement actions resolved by each agency.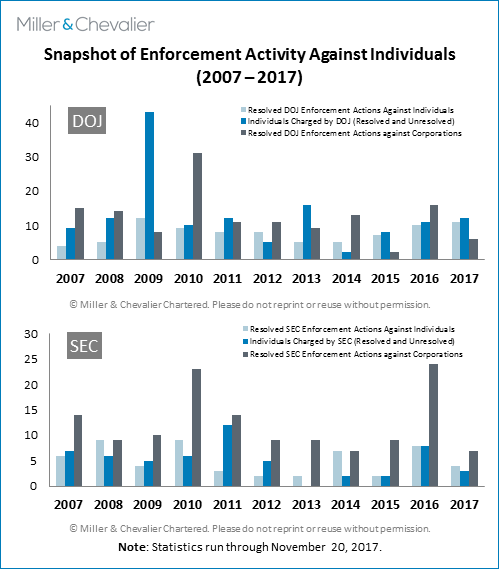 The 2017 statistics reflect a slight uptick, relative to the preceding several years, in the number of individuals charged and individual enforcement actions resolved by the DOJ.  These numbers do not, however, appear significantly different from years past. On the SEC side, 2017 has seen a drop in both individual and corporate enforcement, but both may be explained by a record number of resolved corporate enforcement actions in 2016 and neither appears anomalous. 
Most of the recently resolved corporate actions have not yet led to known cases against individuals, which is not altogether surprising nor necessarily indicative of any trend, as bringing charges against an individual often requires significant effort and time after the end of a corporate investigation, and because individual pleas often remain under seal while the authorities coordinate related prosecutions. Some of the recent individual prosecutions are not related to corporate enforcement actions (those involving PDVSA contracts, with Ardila the tenth individual to plead guilty as part of the overarching investigation, or U.N. officials), while the recent charges against and pleas by former Rolls-Royce, Halliburton, and SBM employees reflect the agencies' pursuit of individuals in the context of those corporate investigations. We will continue to track whether the rise in corporate enforcement actions in 2016 and early 2017 will translate into increased enforcement against individuals. 
Declinations
In addition to the corporate enforcement actions resolved since the end of June, we have identified eight declinations issued by the agencies during the second half of 2017 to date. These declinations include two from the SEC and six from the DOJ.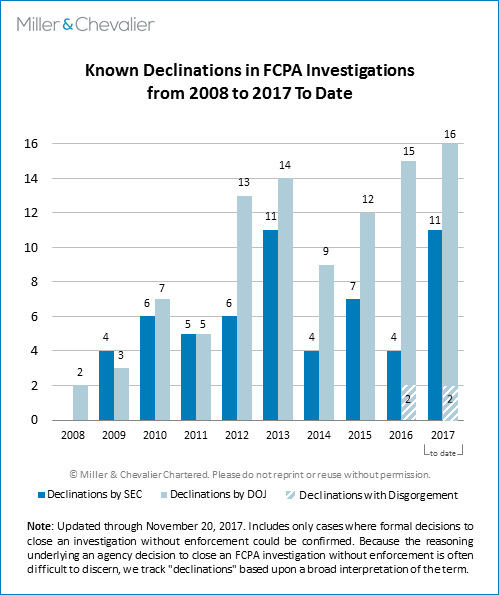 In our FCPA Summer Review 2017, we listed several declinations that we had identified since the first quarter of 2017, including two declinations issued in July 2017. In addition to those two declinations, which appear in the top two places in the list below, we have identified six other newly issued declinations, for a total of 27 declinations for the year to date. This number exceeds the year-end totals for every year since at least 2008 and is likely to rise further by the end of the year. While higher than years past, the 2017 totals so far are generally in line with the totals in the last several years, and the available data do not necessarily support any indication of new practices or priorities by the SEC or DOJ.
The declinations that we have identified in the second half of 2017 to date are:
In addition to the declinations listed above, we are aware of another declination issued by the SEC during the third quarter of 2017. We cannot report any other details for this declination, including the name of the target company, because the declination has not been publicly reported. As is our standard practice, we do not report the details of non-public declinations.
As noted in the chart above, we count as "declinations" all decisions by the SEC or DOJ to close an active FCPA-related investigation without enforcement. Moreover, our declination totals are subject to revision, and the number of known SEC or DOJ declinations – whether from the last quarter or years past – is likely to rise as we learn of additional declinations from those time periods. The reason for the lag in identifying new declination decisions is that companies often wait to announce the closure of investigations in their quarterly securities filings or annual reports, if they choose to disclose them at all.
Known Investigations
We have identified five new investigations since the last Review, bringing the total in 2017 to date to 27. Moreover, as we have noted in the past, the numbers in this chart are likely to rise, even for past years, since public companies sometimes wait months, or even years, to disclose the existence of an investigation in their securities filings – with some choosing never to do so – and non-issuer companies often never disclose the existence of an investigation.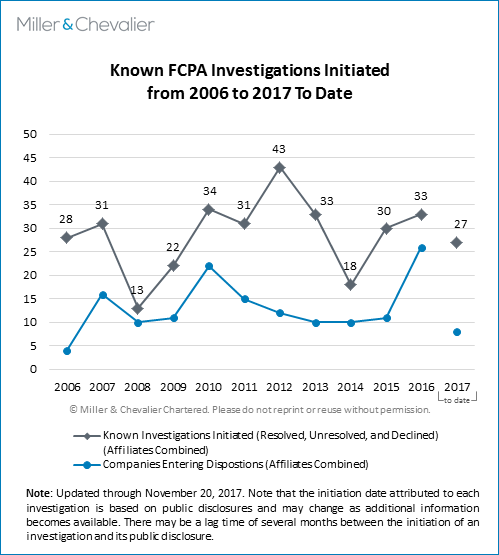 Whether 2017 will mark any kind of record in such known investigations is unclear.  At a minimum, however, the number of disclosed investigations supports agency statements that FCPA enforcement in "on track" and our observation that efforts are consistent with recent trends in the last several years. 
DOJ and SEC Staffing Changes
There have been several recent staffing changes of note at the DOJ and SEC. First, Trevor McFadden, the former Deputy Assistant Attorney General responsible for the Criminal Division's Appellate and Fraud Sections, was confirmed by the Senate to the federal bench on October 30, 2017. On November 2, 2017, an SEC press release confirmed that Charles Cain was named Chief of the SEC's Foreign Corrupt Practices Unit.  Finally, a November 8, 2017 announcement by the U.S. Department of the Treasury stated that Kenneth Blanco, the Acting Assistant Attorney General in charge of the Criminal Division, is leaving the DOJ to become Director of the Financial Crimes Enforcement Network (FinCEN) before the end of 2017. 
International Developments
In August 2017, the vice-chairman of Samsung Electronics, one of the most powerful companies in South Korea, was sentenced to five years in prison on various charges that included bribery and embezzlement. This action is one of several related to a larger corruption scandal that resulted in the earlier impeachment of South Korea's president, Park Geun-hye, who is herself awaiting trial on charges related to official corruption and bribery involving a close associate. 
On October 30, 2017, the Government of Canada announced that the exception for facilitation payments contained within the Corruption of Public Officials Act (CFPOA) was being removed pursuant to a bill (S-14) that became effective on October 31, 2017. 
On November 14, 2017, the Organisation for Economic Co-operation and Development (OECD) Working Group on Bribery released its latest update on enforcement trends by signatories to the OECD Convention on Combating Bribery of Foreign Public Officials in International Business Transactions (the Convention). The data released by the Working Group show that 443 individuals and 158 entities have been sanctioned under criminal proceedings for foreign bribery by 20 different Convention signatories between the Convention's 1999 entry into force and the end of 2016. In addition, the OECD reported that at least 116 individuals and 209 entities in nine different countries have been penalized for other offenses related to foreign bribery, such as money laundering or accounting violations. The OECD report also observed that "in spite of this progress, the data indicate that 21 of the Parties whose implementing legislation has entered into force have never sanctioned an individual or an entity for foreign bribery."
Actions Against Corporations
Telia Company AB and its Uzbek Subsidiary Settle Charges in Largest FCPA Settlement in 2017
On September 21, 2017, Swedish-based telecommunications company Telia Company AB (Telia) entered into a DPA with the DOJ in connection with charges that the company conspired to violate the anti-bribery provisions of the FCPA, and its Uzbek subsidiary, Coscom, pled guilty to one count of conspiracy to violate the anti-bribery provisions of the FCPA.  On the same day, the SEC filed a Cease-and-Desist Order (Order) based on Telia's alleged violation of the anti-bribery and internal accounting controls provisions of the FCPA. According to the Information, Telia maintained a class of securities in the U.S. and was an "issuer" for purposes of the FCPA from 2002 until on or about September 5, 2007. The Netherlands' Openbaar Ministerie (OM) also announced a related settlement with Telia under Dutch law related to bribery of government officials and inaccurate books and records.
In connection with its settlement, Telia agreed to pay $965,773,949 in total penalties, disgorgement, and forfeiture. Specifically, Telia agreed to pay penalties in the amount of $548,603,972 (of which $40,000,000 would be paid as forfeiture by Telia on behalf of Coscom, and $500,000 would be paid as a criminal fine), and disgorgement in the amount of $457 million (less a $40 million offset for the forfeiture to the DOJ). 
According to the Order, from 2007 until at least 2010, Telia paid bribes to a foreign official, a relative of the President of Uzbekistan, in order to obtain and retain business in Uzbekistan. The Order states that Telia made at least $330 million in illicit payments during the relevant time period in order to acquire a U.S.-based telecommunications company with operations in Uzbekistan and to enter the telecommunications market in Uzbekistan. According to the Order, Telia's bribe payments were funneled through payments for "sham lobbying and consulting services to a front company controlled by the foreign official."
In particular, the Information describes the following actions taken by Telia:
In 2007, Telia negotiated a corrupt partnership and entered into a cooperation agreement with the foreign official through a representative of the foreign official. Under the agreement, the "Uzbek partner" (known by some Telia managers at the time to be the foreign official) would receive $30 million and shares in Telia's Uzbek holding company, with the option to sell the shares back at a "substantial" profit;
In 2007, a certain former executive and management authorized a corrupt payment of $2 million for the benefit of the foreign official;
Also in 2007, Telia acquired 3G licenses in Uzbekistan and made a payment of $80 million to the foreign official's shell company, at the same time that Telia entered into a shareholder agreement with the shell company with the shell company paying $50 million for shares that it could sell back at a "substantial" profit;
In 2008, Telia made a $9.2 million payment to a shell company to benefit the foreign official and assist with Coscom's business;
In 2010, the shell company sold 20% of its 26% share of Coscom back to Telia, with Telia paying the shell company $220 million; and
Also in 2010, Telia's Uzbek holding company entered into a number of agreements through which it paid a third-party vendor $15 million to assume a debt owed by a Swiss shell company beneficially owned by the foreign official and then forgave the debt. The company entered into these agreements to facilitate acquisition of a 4G license and continued business in Uzbekistan.
Noteworthy Aspects
Executives Charged in Sweden: Swedish authorities have charged three former Telia executives in connection with the company's business in Uzbekistan. The executives are Lars Nyberg, former CEO, Tero Kivisaari, former Deputy CEO and Head of Eurasia, and a third as yet unnamed executive. According to news reports, all three have denied the charges of "serious bribery offenses."  
Monetary Offsets: Both the Order and DPA provide for offsets in connection with payments by Telia to Dutch and Swedish authorities. The DPA stated that Telia's criminal penalty would be offset by up to $274 million for any criminal penalties paid to the OM. The Order stated that Telia's disgorgement obligation would be offset by any confiscation or forfeiture payment of up to $208.5 million made by Telia to the Swedish Åklagarmyndigheten or the OM within 540 or 550 days, respectively. According to a Telia press release, Swedish authorities have begun legal proceedings against Telia for disgorgement. And, as with the VimpelCom Ltd. settlement, the SEC credited Telia for $40 million in forfeiture paid to the DOJ. These credits are in contrast to the Siemens settlement from 2008 in which Siemens separately settled with U.S. and foreign authorities, and are another indicator of increasing international cooperation among prosecuting authorities to reach global resolutions. In the DOJ's press release, Acting Assistant Attorney General Kenneth A. Blanco stated: "This resolution . . . demonstrates the Department's cooperative posture with its foreign counterparts to stamp out international corruption and to reach fair, appropriate and coordinated resolutions."
No Compliance Monitor: Pursuant to its settlements with the DOJ and SEC, Telia is not obligated to retain an independent compliance monitor. In its DPA with Telia, the DOJ applauded Telia's "extensive remedial measures," which included: "terminating all individuals who had a supervisory role over those engaged in the misconduct, including every member of the Company's board who took part in the decision to enter Uzbekistan, or failed to detect the corrupt conduct described"; "creating a new and robust compliance function throughout the company"; "implementing a comprehensive anti-corruption program"; and "overhauling the Company's corporate governance structure." The DPA included a commitment from Telia "to continuing to enhance its compliance program and internal controls, including ensuring that its compliance program satisfies" the compliance standards articulated by the DOJ.
Ongoing Related Forfeiture Action: As noted in our FCPA Spring Review 2016, the DOJ has filed related civil complaints seeking forfeiture of more than $850 million in alleged proceeds of bribes and property paid by Telia, VimpelCom, and another telecommunications company. Those cases are ongoing.
Halliburton Company Settles with SEC in Connection with Oilfield Service Contracts in Angola
On July 27, 2017, the SEC announced that Halliburton reached a settlement with the SEC to resolve allegations that the company violated the FCPA's books-and-records and internal-accounting-controls provisions. Halliburton – an oilfield services company based in Houston, Texas – paid $14 million in penalties, $14 million in disgorgement, and $1.2 million in pre-judgment interest, for a total of $29.2 million. The settlement also required the company to retain an independent compliance monitor for 18 months. A former company executive, Jeannot Lorenz, agreed to a settlement with the SEC in connection with the same allegations and is the subject of a separate article, in the "Actions Against Individuals" section of this Review, below.
According to the SEC Cease-and-Desist Order (SEC Order), the violations allegedly occurred during Halliburton's 2009-2010 attempts to obtain oilfield service contracts with Sonangol, the national oil company of Angola. Notably, these violations occurred mere months after Halliburton's February 2009 settlement with the SEC, under which the company was held jointly liable for $177 million in disgorgement arising out of the actions of its then-wholly owned subsidiary, KBR. 
According to the SEC Order, in April 2009, Halliburton began preparing for a new round of bids for a joint project between Sonangol and a large international oil company. However, Halliburton was concerned about its compliance with Angola's local content requirements: during the previous round of bidding, Sonangol had warned that it might veto all contracts with Halliburton unless the oilfield services company brought in more local Angolan subcontractors. Furthermore, in the run-up to this new round of bids, Halliburton learned from several sources that Sonangol was "extremely dissatisfied" with Halliburton's compliance with the country's local content requirements up to that point.
The SEC documents state that Halliburton tasked one of its long-time executives to address the local content issue. Jeannot Lorenz was a former Vice President of Halliburton who had served as Halliburton's country manager in Angola. Lorenz had been officially assigned to Halliburton in Brazil but continued to lead the company's local content efforts Angola.
According to the SEC, Lorenz sought to resolve the local content issue by bringing a local Angolan company onto the project. However, this local Angolan company posed a significant corruption risk: it had little relevant expertise that could be useful to Halliburton, and it was owned by a former Halliburton employee, who was a friend and neighbor of the government official responsible for awarding the contracts at issue to Halliburton on behalf of Sonangol. The SEC documents note that, in order to conceal the corruption risk that this local Angolan company raised, Lorenz allegedly spent several months – from about April 2009 to February 2010 – attempting to "knowingly circumvent[]" internal controls Halliburton had put in place after the KBR settlement. 
First, Lorenz allegedly proposed retaining the local Angolan company as a "commercial agent" and paying a fee equal to 2% of Halliburton's existing revenue in Angola – approximately $15 million over the term of the proposed agreement. However, Halliburton's Legal Department noted that company policy prohibited paying a new commercial agent a percentage of existing business and insisted on lengthy due diligence for the Angolan company, including retention of outside U.S. counsel to conduct interviews. As Halliburton's in-house counsel put it in a quote cited in the SEC documents: "'[t]his is undoubtedly a tortuous, painful administrative process, but given our company's recent US Department of Justice/SEC settlement, the board of directors has mandated this high level of review.'" Lorenz abandoned his proposal to retain the local consultant.
Second, Lorenz allegedly proposed outsourcing some of Halliburton's in-house functions – namely, property management and ground transportation services – to the local Angolan company without competitive bidding. However, Halliburton's Procurement Department noted that the Angolan company did not meet the company's standard for single-source bidding and insisted on a competitive bidding process run out of the company's headquarters in Houston. According to the SEC Order, when Halliburton's procurement specialists finally reviewed the bids in February 2010, they found that the local Angolan company's bid was 90% to 447% higher than the next highest bid for property maintenance and 42% to 126% higher for ground transportation. Lorenz attempted to negotiate a more competitive price with the local Angolan company, but was told that the company had an "unexplained, non-negotiable" monthly "fixed cost" of $250,000 above its own costs. 
Third, while Lorenz and the local Angolan company were waiting for the results of the competitive bidding process, Lorenz allegedly attempted to negotiate and obtain approval for a "bridge agreement" so that the Angolan company could be paid early as a show of "good faith." According to the SEC Order, this approach resulted in a proposed six-month "Interim Consulting Agreement," whereby the local Angolan company would be paid $45,000 a month in exchange for "developing reports with respect to findings and recommendations" as to how Halliburton could comply with Angolan local content requirements. However, Lorenz was unable to execute the agreement
The SEC documents note that despite these setbacks, Halliburton senior executives appeared supportive of Lorenz's plan to retain the local consultant. First, senior executives met with Sonangol officials at the company's headquarters in Luanda in April 2009 to discuss the matter. Later, a senior Halliburton executive met at the local consultant's vacation home in Portugal – a meeting at which Sonangol officials and Lorenz were also present. Following the meeting in Portugal, Lorenz allegedly engineered a new arrangement whereby the local Angolan company would lease commercial and residential properties from a third party and then sublease those properties to Halliburton at a substantial markup. According to the SEC Order, on February 23, 2010, Halliburton issued a letter of intent to the local Angolan company for future real-estate management contracts. The same month, Halliburton executed the Interim Consulting Agreement discussed above. The local Angolan company was paid $405,000 retroactively, for the period from September 2009 to February 2010, despite performing no services during that time. 
According to the SEC Order, in May 2010, Lorenz and the local Angolan company signed a "Real Estate Transaction Management Agreement," under which Halliburton would pay the local Angolan company $275,000 for managing Halliburton's real estate in Luanda. Personnel from Halliburton's Finance and Accounting department flagged this agreement during a mandatory review and raised concerns about the use of single-source procurement and the high costs. The SEC Order stated that Halliburton executives ultimately decided that such unfavorable terms were necessary to satisfy Angolan local content requirements. The SEC Order alleged that Lorenz also made false material statements in his justification for this agreement.
Over the next year, the local Angolan company received over $3,705,000 from Halliburton under the Interim Consulting Agreement and the Real Estate Transaction Management Agreement. During this time, Sonangol approved seven subcontracts with Halliburton, resulting in profits for Halliburton of approximately $14 million.
Noteworthy Aspects
Circumvention of Internal Controls and Risk Mitigation Processes: Halliburton had internal controls and procedures in place to reduce corruption and related risks. The disposition documents state that the company's Legal Department insisted on vetting by outside U.S. counsel before the local Angolan company could be brought in as a commercial agent. The Procurement Department required competitive bidding for the travel and property management services. The Finance and Accounting Department flagged the eventual Real Estate Transaction Management Agreement and elevated it to senior management. However, Lorenz made several different attempts over time to bring the local Angolan company onto the project and eventually succeeded in obtaining approvals from the company's management. These facts serve as a reminder that, even if gatekeepers identify risks, a company's management must make business decisions that appropriately account for those risks and weigh their effects on the company's compliance and possible liability. Members of Halliburton's senior management twice met with Sonangol officials to discuss the local consultant while issues were being investigated, which perhaps undercut the appropriate consideration of corruption risks.
Local Content Requirements: Several countries, including Angola, have local content requirements that require foreign companies to hire a certain percentage of businesses or agents locally. Local content requirements in high-risk jurisdictions pose a heightened risk of corruption since they often mandate the engagement or hiring of third parties for which there may not necessarily be a business need. Robust compliance programs should be designed to ensure that adequate due diligence is performed on entities or persons hired to meet local content requirements and to withstand pressure from the business.
Alere, Inc. Reaches $13 Million Settlement with SEC Over Alleged Payments to Foreign Officials
On September 28, 2017, Massachusetts-based manufacturer of diagnostic tests Alere, Inc. (Alere USA) reached a $13 million agreement with the SEC to settle charges of books-and-records and internal-controls violations related to alleged improper payments to government officials in Colombia and India, as well as charges reflecting accounting, recording, and reporting issues in connection with the company's operations worldwide. The $13 million settlement included $3,328,689 in disgorgement, $495,196 in prejudgment interest, and a civil penalty of $9.2 million. While the public case documents focus on the various non-FCPA-related accounting and reporting issues, the documents include substantive discussions of the allegations under the FCPA's accounting provisions, and the disgorgement amount of $3,328,689 matches the SEC's accounting of Alere USA's profits earned due to alleged improper payments – $3.18 million in Colombia and $150,000 in India.
Improper Payments to Government Officials in Colombia
According to the SEC's Cease-and-Desist Order (the SEC Order), Alere USA grew rapidly in the 2000s and 2010s, primarily through the acquisition of foreign subsidiaries. In 2008, Alere USA successfully purchased a Colombian company that it renamed Alere Colombia, S.A. (Alere Colombia). Alere USA decided to hire the former owner of the acquired Colombian company as General Manager of its new Colombian affiliate.
The former owner and now General Manager of Alere Colombia continued a pre-existing sales relationship with a Colombian health promotion entity that the Colombian government took over control from 2011 through 2013 due to allegations of mismanagement, making it a government instrumentality under the FCPA. 
From 2007 to 2012, the General Manager of Alere Colombia allegedly made approximately $275,000 in payments to the manager of this Colombian instrumentality. Although these payments were recorded as consulting services provided by the General Manager's relatives and friend, the SEC's documents stated that no actual services appear to have been provided, leading the SEC to conclude that the payments' actual purpose was to retain business with the health provider. During this time, Alere Colombia made approximately $3.18 million in profits. In 2013, Alere Colombia hired the manager of the Colombian instrumentality as an employee (although he resigned in 2015 after the start of an internal investigation).
Because the $275,000 in improper payments were recorded as consulting fees, the SEC concluded that Alere USA failed to devise and maintain an adequate system of accounting controls sufficient to prevent and detect the improper payments that occurred over several years.
Improper Payments to Government Officials in India
According to the SEC Order, in 2011, Alere's Indian subsidiary – Alere Medical Pvt. Ltd. (Alere India) – won a contract to provide malaria testing kits to a local governmental entity. This contract was brokered through an India-based distributor, which, in 2012, wrote a letter to Alere India's then-Vice President of Marketing and Sales informing him that the local government officials would increase the orders under the tender from 200,000 to 1,000,000 testing kits if the officials were paid a 4 percent commission. The SEC Order states that the then-Vice President of Marketing and Sales approved this commission, which was incorporated into the prices for the test kits but not recorded in Alere India's books and records.
As recounted in the SEC Order, in August 2012, the distributor requested a credit memo from Alere India for the commission it had paid to local government officials for the initial 200,000 test kits. The distributor paid Alere India the amounts owed for the 200,000 test kits but deducted the commission paid to the local government officials from the total payment amount, noting this on the back of the invoice. In December 2012, the new management at Alere India discovered the unpaid credit memo. Alere USA's corporate management launched an internal investigation and directed Alere India to refuse to issue the requested credit memo. Alere India requested and received reimbursement from the distributor for the commission amounts that the distributor had withheld in that order. Nevertheless, Alere USA retained approximately $150,000 in profits obtained from the increased contract.
The SEC concluded that Alere USA inaccurately recorded the commission paid by Alere India in its book and records and noted the issuer parent's failure to devise or maintain internal accounting controls sufficient to provide reasonable assurances that its funds would not be used to make improper payments in contravention of Alere's policies.
Noteworthy Aspects
Combined Anti-Corruption and Revenue Recognition Enforcement: Although not entirely clear from the SEC Order, the FCPA-related aspects of the SEC enforcement action appear to have been closely connected with the alleged accounting violations not related to corruption. Information suggests that the company was grappling with the underlying issues through internal reviews in 2015, though how and in what order the issues were disclosed to or raised by the SEC is uncertain based on the public documents. This case highlights the potential for narrow issues to expand into new areas as investigations and enforcement actions advance, which can create areas of potential liability that a company may not be aware when it begins a review. The case also shows that financial reporting "hygiene" is relevant to the state of FCPA-defined internal accounting controls, even if these reporting requirements are not as broad as the FCPA's obligations. 
Pre-M&A Due Diligence and Post-Merger Monitoring: Alere's settlement with the SEC highlights the importance of pre-acquisition FCPA and internal-controls due diligence and post-acquisition monitoring. Because companies usually are successors in liability to any entities they acquire, pre-acquisition due diligence is crucial to identify potential risks such as relationships with high-risk third parties. Monitoring of the acquired entity during the post-acquisition integration process is equally as important to ensure that company policies, procedures, and accounting controls are implemented and followed. Had pre- or post-acquisition due diligence identified the Colombian healthcare promotional company as a government-operated third party, the company's engagement with it might have raised red flags signaling the need for further review and possible remediation actions by Alere USA in a timeframe that could have prevented at least some of the payments at issue in the case. Companies should actively undertake and monitor post-acquisition compliance integration over the medium and long terms, especially if the acquired company continues to operate in the same environment.
Broad Definition of Government Instrumentality: The SEC found that the Colombian health promotion entity was a government instrumentality and that payments made to the manager of the entity were therefore payments to a government official. As noted above, this entity was an unusual government instrumentality because its operation by the government was for a temporary period as a result of a finding of mismanagement by its private owners. The exact nature of the government's control over this entity is not clear from the SEC documents, but it is likely that the SEC used a multi-factor test similar to methods that have been upheld in U.S. courts to bring the entity within the broad definition of "instrumentality."
Actions Against Individuals
Ninth Conviction Arising Out of 2007 Haiti Teleco Scandal
On July 19, 2017, Amadeus Richers, the former Director of a Miami-based telecommunications company, pled guilty to playing a role in a bribery scheme targeting officials in Haiti's state-owned telecommunications company (Telecommunications D'Haiti S.A.M. or Haiti Teleco) more than 10 years ago. We reported on the Haiti Teleco case in our FCPA Spring Review 2015, after the Eleventh Circuit rejected an appeal by another defendant convicted on related charges and found that Haiti Teleco is a government instrumentality for the purposes of the FCPA. (See also our coverage in the Spring 2012, Winter 2012, and Autumn 2011 FCPA Reviews for background on the Haiti Teleco case and related prosecutions.) On September 24, 2017, the U.S. District Court for the Southern District of Florida sentenced Richers to time served of approximately seven months.
The DOJ first indicted Richers in July 2011, alleging that he undertook illegal actions as part of a conspiracy while he was the Director of Uniplex Telecom Technologies, Inc. and Cinergy Telecommunications, Inc. As the Director of these companies, Richers was responsible for managing the ongoing business relationship between Uniplex, Cinergy, and Haiti Teleco. As alleged in the indictment, his role in the conspiracy was to authorize payments of bribes to key foreign officials on behalf of Uniplex and Cinergy, which allowed Uniplex and Cinergy to receive favorable treatment from Haiti Teleco. As part of their scheme to conceal bribes, Richers and his co-conspirators allegedly issued payments for fictional telecommunications-related services to intermediary fictional companies. To conceal the non-legitimate nature of the business purposes, Richers allegedly caused Uniplex and Cinergy to put false notations on financial, banking, and accounting documents. Ultimately, according to the plea documents, Richers and his co-conspirators paid roughly $3 million in bribes between 2001 and 2004 directly and indirectly to Haiti Teleco personnel and to an official in the executive branch of the Haitian government. 
Richers remained a fugitive until his arrest and extradition from Panama on February 23, 2017. After initially contesting the charges against him, Richers changed his plea to guilty on July 19, 2017. 
To date, nine individuals have been convicted in connection with the Haiti Teleco scandal, including six on FCPA counts. 
Macau Real Estate Mogul Convicted of Bribing United Nations Officials
On July 27, 2017, the DOJ announced that, after a four-week trial, a federal jury in New York had convicted the head of a Macau real estate company on six counts in connection with a multi-year bribery scheme. Ng Lap Seng, chairman of the Macau Real Estate Development Company, was found to have conspired with two United Nations officials in order to further his own business interests. Over several years, Ng paid roughly $1.3 million in bribes to Francis Lorenzo, then U.N. Deputy Ambassador from the Dominican Republic, and the late John W. Ashe, then the Permanent Representative of Antigua and Barbuda to the United Nations and the 68th President of the U.N. General Assembly. In exchange, these officials agreed to use their positions in order to help Ng obtain formal U.N. support for a multi-billion dollar conference center he planned to construct in Macau, which would be used to host various U.N. events. Lorenzo and Ashe's actions included preparing an official document, submitted to the U.N. Secretary General, insisting that construction of the Macau conference center was essential to achieving the United Nations' global development goals. Ng was convicted of paying illegal bribes and gratuities, violating the FCPA, money laundering, and conspiracy to commit those offenses. The most serious charges carry a maximum penalty of 20 years in prison.
Former Halliburton Vice President Agrees to Civil Penalty to Settle SEC Investigation
Also on July 27, 2017, Jeannot C. Lorenz, a French citizen, U.S. national, and former Vice President of Halliburton Company, agreed to an SEC Cease-and-Desist order (SEC Order) arising out of his actions on Halliburton's behalf to obtain oilfield service contracts with Sonangol, the state-owned oil company of Angola.
In 2009, Halliburton learned that Sonangol might veto future contracts with the oilfield services company if it failed to comply with Angola's local content requirements and retain more Angolan businesses. Halliburton tasked long-time executive Lorenz with addressing this problem.  Lorenz was a long-time Halliburton executive who had served as the company's country manager and interim country manager in Angola. Although he had recently been reassigned to Brazil, he agreed to take on the Angolan local content issue.
According to the SEC Order, Lorenz engaged a local Angolan company for Halliburton's projects despite the fact that the company had little relevant experience and was owned by a former Halliburton employee with close connections to the Sonangol official who would approve the Halliburton contracts. As set forth in greater detail in our discussion of Halliburton's settlement with the SEC, above, Lorenz spent several months circumventing internal controls put in place after Halliburton's FCPA settlement arising out of the actions of its subsidiary, KBR. Eventually, the company approved engaging the local Angolan company for consulting and real-estate management contracts, which allowed it to collect approximately $3.5 million despite providing little or no valuable services. Sonangol subsequently approved seven subcontracts with Halliburton, resulting in profits for Halliburton of approximately $14 million.
Lorenz agreed to pay a $75,000 civil penalty under the SEC Order. According to the SEC Order, he is no longer employed at Halliburton.
Co-Conspirator Sentenced in Bribery Plot to Sell $800 Million Skyscraper
On December 15, 2016, the DOJ indicted Malcolm Harris for wire fraud and money laundering stemming from an alleged bribery scheme spanning the United States, Vietnam, and South Korea and involving Joo Hyun Bahn and Ban Ki Sang, the brother and nephew of the former United Nations Secretary-General Ban Ki-moon, and an unnamed foreign official in the Middle East. Harris pled guilty on June 21, 2017, and was sentenced by Judge Ramos of the U.S. District Court for the Southern District of New York on October 5, 2017. 
According to the indictment, Ban Ki Sang and Joo Hyun Bahn conspired to bribe a foreign official to help close an $800 million deal to sell a 72-story skyscraper in Vietnam. Harris allegedly presented himself to Joo Hyun Bahn and Ban Ki Sang as a middleman who could pass corrupt proceeds to an official of an unnamed country in the Middle East, who would then facilitate the purchase of the building by that country's sovereign wealth fund. Ban Ki Sang and Joo Hyun Bahn allegedly advanced Harris $500,000 in bribe money, but instead of using the proceeds to bribe the official, Harris pocketed the money, leading the Assistant Attorney General to quip that, "[t]his alleged conduct proves the adage that there is truly no honor among thieves." Harris was sentenced on October 5, 2017, to 42 months in prison. As part of his plea deal, Harris must also pay $760,148.57 in restitution.
U.S. Agency Developments
Second Circuit Decision Extends Kastigar Protections to Foreign Compelled Testimony
In July, in the case United States v. Allen, the Second Circuit reversed the convictions of two former Rabobank traders because it found that the U.S. government's use of compelled testimony violated the defendants' Fifth Amendment rights. Anthony Allen and Anthony Conti were interviewed by the U.K.'s Financial Conduct Authority (FCA) in the course of an investigation into manipulation of London Interbank Offered Rate (LIBOR), a benchmark rate that leading banks charge each other for short-term loans. Under U.K. rules, Allen and Conti faced the threat of imprisonment if they refused to participate in the interviews. A fellow Rabobank employee, Paul Robson, was the subject of an enforcement action by the FCA, and as part of that action, Robson was provided transcripts of Allen's and Conti's testimony, and evidence showed that Robson had closely reviewed the transcripts.
Simultaneous to the FCA investigation, the DOJ was conducting its own investigation, and Robson eventually pled guilty in the United States to LIBOR-related charges. As part of his plea agreement, Robson agreed to cooperate with the DOJ in its cases against Allen and Conti, and he testified both before the grand jury that indicted Allen and Conti and again at their trial. Allen and Conti objected to Robson's testimony, asserting that it was tainted by his review of their compelled testimony and thus violated the rule that emerged from the Supreme Court's decision in Kastigar v. United States, 406 U.S. 441 (1972), that the government must prove that a witness who had substantial exposure to a defendant's compelled testimony was not influenced by that exposure. At the Allen and Conti trial, the government asserted that Robson's personal experience and observations provided an independent source for his testimony, and the trial court agreed. But the Second Circuit reversed that decision, finding that the Fifth Amendment protections outlined in Kastigar applied equally to testimony compelled by a foreign sovereign, and that a "bare, generalized denial of taint" was not enough to satisfy the government's burden of showing that the witness's testimony was not altered or affected by exposure to the compelled statements.
The Second Circuit was not convinced by the DOJ's argument that its holding could hamper the prosecution of criminal conduct that crosses international borders, and placed the burden of properly managing the challenges of cross-border coordination squarely on the U.S. government, rather than shifting it onto the subjects and targets of such investigations. The impact of the decision will be immediate and profound given the increasing frequency of interaction and coordination between the U.S. enforcement authorities and their foreign counterparts in FCPA investigations; it remains binding law after the Second Circuit denied the DOJ's request for en banc review of the panel's decision.
Miller & Chevalier Upcoming Speaking Engagements and Recent Articles
Upcoming Speaking Engagements
Recent Articles
| | |
| --- | --- |
| 11.17.17 | Trade Compliance Flash: Congress Seeks to Update CFIUS in Response to Chinese Investment Threat: A Primer on Potential Big Changes (Brian J. Fleming) |
| 11.17.17 | Compliance Insiders: Toolkit for Internal Compliance (Barbara D. Linney, Richard A. Mojica) |
| 11.15.17 | Eight Tips for Performing Effective Corruption Investigations in Brazil (Leah Moushey) |
| 11.15.17 | Significant US Sanctions Developments Under the Trump Administration (Barbara D. Linney, Collmann Griffin) |
| 11.15.17 | Prepare for Big Changes to FARA Enforcement (Brian J. Fleming) |
| 11.14.17 | A Comparison of Brazil and the United States: Prosecutors' Toolkits in the Anticorruption Context (Gregory W. Bates, Leah Moushey) |
| 11.13.17 | 8 Ways the GDPR Could Impact Most Organizations (John C. Eustice) |
| 11.09.17 | Trade Compliance Flash: Trump Administration Implements New Cuba Policy (Barbara D. Linney, Kevin J. Miller, Patrick M. Stewart) |
| 11.08.17 | Stern Warning to International Banks Accompanies New U.S. Sanctions Against North Korea (Barbara D. Linney, Collmann Griffin) |
| 11.02.17 | Trade Compliance Flash: OFAC Issues Revised Directive 4 and CAATSA Guidance; Keeps Up Pressure on Iran (Barbara D. Linney, Collmann Griffin) |
| 10.30.17 | Trade Compliance Flash: U.S. Department of State Takes First Step Towards Sanctions Against Persons Dealing with the Russian Intelligence and Defense Sectors (Barbara D. Linney, Collmann Griffin) |
| 10.16.17 | Trade Compliance Flash: President Trump Refuses to Certify JCPOA Compliance Under U.S. Domestic Legislation (Brian J. Fleming, Barbara D. Linney, Collmann Griffin) |
| 10.12.17 | Executives at Risk: Key Developments - Fall 2017 (Kirby D. Behre, Lauren E. Briggerman, Dawn E. Murphy-Johnson, Adam W. Braskich, Sarah A. Dowd, Ian A. Herbert, Aiysha S. Hussain, Jonathan D. Kossak, Nicholas R. Metcalf, Dwight B. N. Pope) |
| 10.09.17 | Managing the Risks of a U.S.-Iran Nuclear Deal Withdrawal (Brian J. Fleming) |
| 10.09.17 | Trade Compliance Flash: OFAC Set to Terminate Most Sanctions Against Sudan (Barbara D. Linney, Collmann Griffin) |
| 10.05.17 | U.S. Foreign Corrupt Practices Act – Update (Aiysha S. Hussain) |
| 10.02.17 | Trade Compliance Flash: OFAC Amends Directives 1 and 2 to Tighten Sanctions on Russian Finance and Energy Sectors (Barbara D. Linney, Collmann Griffin) |
| 09.27.17 | Trade Compliance Flash: OFAC Designates First SDNs Under New North Korea Sanctions (Brian J. Fleming, Barbara D. Linney, Abigail E. Cotterill) |
| 09.22.17 | Trade Compliance Flash: Stern Warning to International Banking System Accompanies New U.S. Sanctions Against North Korea (Barbara D. Linney, Collmann Griffin) |
| 09.20.17 | Have Laws, Will Travel (Barbara D. Linney, Saskia Zandieh) |
| 09.18.17 | Trade Compliance Flash: More Mixed Messages on Iran: Latest Sanctions Waivers Accompanied by Additional Sanctions (Brian J. Fleming, Barbara D. Linney, Patrick M. Stewart) |
| 09.15.17 | President Blocks Semiconductor Deal on National Security Concerns (Barbara D. Linney, Patrick M. Stewart) |
| 09.14.17 | Kaspersky Lab Anti-Virus and Software Products Barred Across Federal Government (Brian J. Fleming) |
| 09.04.17 | Trump Tightens Sanctions Against Venezuela (Timothy P. O'Toole) |
---
Editors: John E. Davis, James G. Tillen, Marc Alain Bohn,* Alice C. Hsieh,* Michael Skopets,* and Leah Moushey
Contributors: Lauren E. Briggerman, Dawn Murphy-Johnson, Adam W. Braskich*, Collmann Griffin,* Aiysha S. Hussain,* Maryna Kavaleuskaya,* and Ann Sultan
*Former Miller & Chevalier attorney
---

The information contained in this communication is not intended as legal advice or as an opinion on specific facts. This information is not intended to create, and receipt of it does not constitute, a lawyer-client relationship. For more information, please contact one of the senders or your existing Miller & Chevalier lawyer contact. The invitation to contact the firm and its lawyers is not to be construed as a solicitation for legal work. Any new lawyer-client relationship will be confirmed in writing.

This, and related communications, are protected by copyright laws and treaties. You may make a single copy for personal use. You may make copies for others, but not for commercial purposes. If you give a copy to anyone else, it must be in its original, unmodified form, and must include all attributions of authorship, copyright notices, and republication notices. Except as described above, it is unlawful to copy, republish, redistribute, and/or alter this presentation without prior written consent of the copyright holder.