Miller & Chevalier Receives 2020 Champion for Children Award
Washington, DC, March 29, 2021 – Miller & Chevalier is pleased to announce that the firm was named the 2020 Champion for Children for law firms under 100 lawyers by Children's Law Center (CLC). This marks the second consecutive year of the Champion for Children award for Miller & Chevalier. 
The annual award recognizes law firms and corporations whose total annual giving to CLC exceeded that of their peers. CLC's Advisory Board—which includes more than 30 rising leaders at law firms and corporations in DC—leads the campaign. In 2020, funds raised helped Children's Law Center ensure that District children were offered the quality education and healthcare they needed during an unprecedented year.
"I'm proud to announce that Miller & Chevalier has won its second consecutive Champion for Children award," said CLC Executive Director Judith Sandalow. "Miller & Chevalier's devotion to serving DC children and families cannot be understated. Generous supporters like Miller & Chevalier enable Children's Law Center to expand its impact more broadly throughout the community, reaching more than 5,000 kids and families. We are grateful for the partnership and look forward to helping even more children access the resources they need to have a stable family, good health, and quality education."
"We have been a longstanding partner to Children's Law Center in pro bono work and direct financial support," said firm chair Kathryn Cameron Atkinson. "CLC provides essential support every year, but particularly this year in the context of the extraordinary disruption the pandemic has wrought on the lives of underserved children in our community."
Miller & Chevalier's dedication to ensuring access to justice is reflected in the firm's strong history of pro bono work, which includes a commitment that all firm lawyers devote at least 50 hours to pro bono annually. Miller & Chevalier's lawyers have contributed significantly to CLC's mission, with a substantial portion of their pro bono work dedicated to special education, custody guardian ad litem and caregiver cases.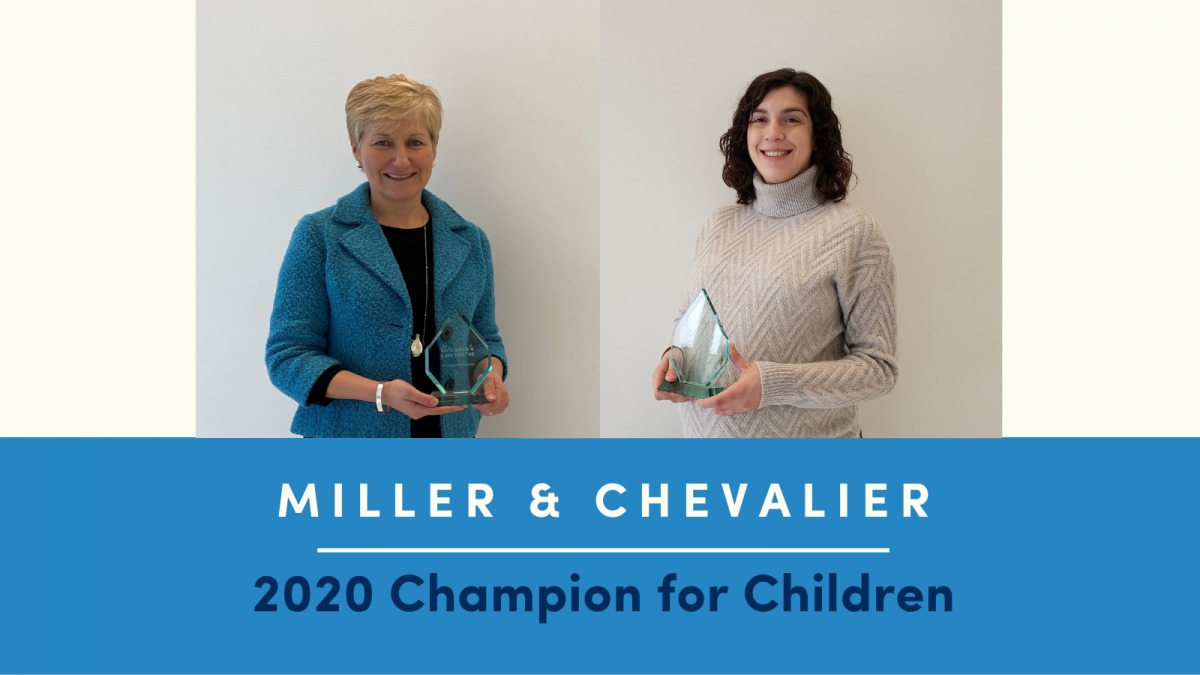 About Children's Law Center
Children's Law Center has been fighting for 25 years to ensure every District child can grow up with a stable family, good health, and a quality education. Judges, pediatricians, and families turn to us to advocate for children who are abused or neglected, who aren't learning in school, or who have health problems that can't be solved by medicine alone. With nearly 100 lawyers, social workers, and other professional staff and additional help from hundreds of pro bono lawyers, CLC reaches one out of every nine children in DC's poorest neighborhoods – more than 5,000 children and families each year. CLC multiplies this impact by advocating for city-wide solutions that benefit all children. More information is available at www.childrenslawcenter.org.
About Miller & Chevalier 
Founded in 1920, Miller & Chevalier is a Washington, DC law firm with a global perspective and leading practices in Tax, Litigation, International Law, Employee Benefits (including ERISA), White Collar Defense and Internal Investigations, and Government Affairs. Miller & Chevalier is a top-ranked firm sharply focused on targeted areas that interact with the federal government. Over the past three years, the firm's lawyers have represented more than 40 percent of the Fortune 100, one-quarter of the Fortune 500 and approximately 30 percent of the Global 100. Based in Washington, DC, a significant number of firm lawyers have held senior positions in the U.S. government and have written many of the regulations they currently help clients navigate. For more information on the firm, visit www.millerchevalier.com. 
###
CONTACT: 
Laura Miller, Media Relations, Greentarget, 312-252-4104