Miller & Chevalier Recognized as a Champion for Children by Children's Law Center
Washington, DC, March 26, 2020 – Miller & Chevalier is pleased to announce that the Children's Law Center (CLC) as one of its 2019 Champions for Children Award winners, in the 1-99 attorney category. In addition to participating in CLC's fundraising campaign, the firm has partnered with CLC to represent DC children in special education, custody guardian ad litem, and caregiver cases, as well as conducting research projects that support CLC's advocacy efforts. Miller & Chevalier's support helps CLC ensure that thousands of children in the District of Columbia are offered the quality education and healthcare they need.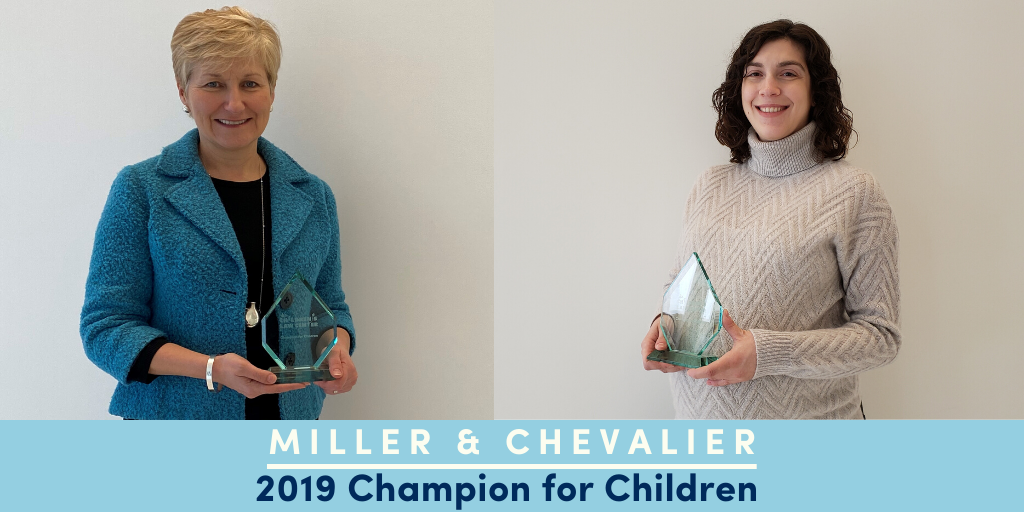 About Children's Law Center
Children's Law Center fights so every child in DC can grow up with a loving family, good health and a quality education. Judges, pediatricians, and families turn to CLC to advocate for children who are abused or neglected, who aren't learning in school, or who have health problems that can't be solved by medicine alone. For more information, visit www.childrenslawcenter.org.
About Miller & Chevalier
Founded in 1920, Miller & Chevalier is a Washington, DC law firm with a global perspective and leading practices in Tax, Litigation, International Law, Employee Benefits (including ERISA), White Collar Defense and Internal Investigations, and Government Affairs. Miller & Chevalier is a top-ranked firm sharply focused on targeted areas that interact with the federal government. Over the past three years, the firm's lawyers have represented more than 40 percent of the Fortune 100, one-quarter of the Fortune 500, and approximately 30 percent of the Global 100. Based in Washington, DC, a significant number of firm lawyers have held senior positions in the U.S. government and have written many of the regulations they currently help clients navigate. For more information on the firm, visit www.millerchevalier.com.
###
CONTACT:
Laura Miller, Media Relations, Greentarget, 312-252-4104