Trade Compliance Flash: CBP's Forced Labor Technical Expo Reveals Promising Solutions for Enhancing UFLPA Compliance
International Alert
Last week, members of Miller & Chevalier's Trade Compliance team attended Customs and Border Protection's (CBP's) first-ever Forced Labor Technical Expo (Tech Expo). The in-person event (which was also livestreamed; recorded sessions available here) showcased the various technical solutions currently available to help companies identify risks of forced labor in their supply chains. In addition to showcasing 18 different vendors with technical solutions to mapping/visibility, traceability, and/or risk assessment, the Tech Expo hosted discussions by several government officials responsible for setting the enforcement strategy and enforcing the Uyghur Forced Labor Prevention Act (UFLPA) – including from CBP, Department of Homeland Security (DHS), Department of Labor, and Department of State, among others. DHS Under Secretary for Policy Rob Silvers, Chair of the Forced Labor Enforcement Task Force said that the UFLPA had caused a "sea change" to the forced labor enforcement regime in the U.S. and reiterated that forced labor is a "top-tier compliance issue" that should be raised to the board of directors and C-suite, and added to the list of issues around which companies build their compliance programs. Finally, keynote speaker Professor Laura Murphy of Sheffield Hallam University (the author of numerous high-profile research reports on alleged supply chain exposure to forced labor in the automotive, PVC, solar, and cotton industries) gave a strongly-worded speech calling upon the private sector to act.
Below we summarize the need-to-know learnings from last week, including new compliance tools released by CBP, private-industry technical solutions to enhance companies' UFLPA compliance programs, and the future of enforcement/CBP's expectations of importers.
CBP's New UFLPA Enforcement Dashboard
CBP released its UFLPA Enforcement Dashboard (UFLPA Dashboard or Dashboard) on Day 1 of the Tech Expo. Users can filter enforcement data by fiscal quarter, industry, exporting country, and whether the shipment was admitted or denied entry by CBP. For example, after significant non-governmental organization (NGO) and press reporting on alleged supply chain exposure to the Xinjiang Uyghur Autonomous Region (XUAR) in the auto industry, users can see that detentions in the "Automotive and Aerospace" industry began in Q2 2023 – with six shipments detained and pending CBP review.1  The enforcement to date has been against goods shipped directly from China.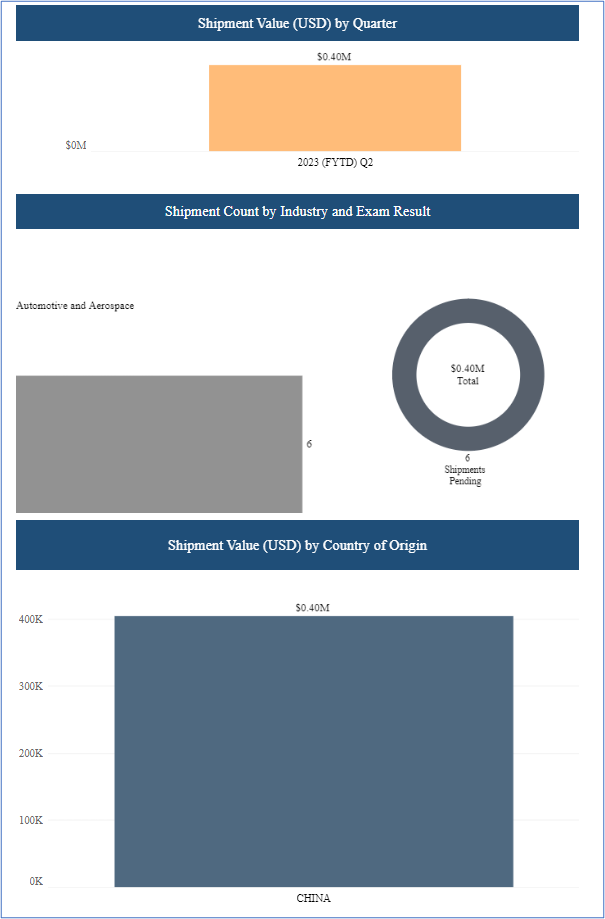 The Dashboard shows that that the majority of detentions across sectors are of goods shipped from Malaysia and Vietnam, although this data is likely skewed by the early and intense enforcement against the solar sector late last year.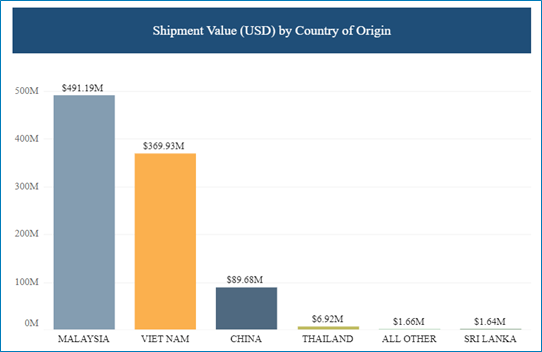 According to the Dashboard, detentions of PVC products, against which enforcement has just begun, appear to be focused on goods shipped from Vietnam and China. The Dashboard also demonstrates that CBP has detained shipments of "Pharmaceuticals, Health and Chemicals," "Machinery," and "Base Metals." 
Observations: The UFLPA Dashboard offers the most detailed insight yet into CBP's enforcement of the UFLPA. It confirms rumored detentions in new sectors, including of products which have not been identified as high-risk products under the UFLPA or its accompanying guidance, the UFLPA Enforcement Strategy. We strongly encourage companies to incorporate the UFLPA Dashboard data into their risk assessment. 
Private-industry Technical Solutions
The 18 firms selected by CBP to present at the Tech Expo largely fell into four categories:
Supply Chain Mapping
Companies can outsource their supply chain mapping2 to providers that either (1) ingest companies' vendor data, automate communications with suppliers to collect sub-tier supplier information, and create a visual map of each supply chain, or (2) predict based on trade data, publicly-available contracts/corporate records/media, and other information what they think a given supply chain looks like, such that an in-house team's' job is limited to verifying the accuracy of the supply chain as predicted by the platform.
Observations: Many of these platforms also offer other solutions, such as screening suppliers for red flags of forced labor/sourcing from the XUAR and helping to collect and organize traceability documentation for high-risk suppliers. 
However, the mapping platforms are costly (most of them are subscription-based models that cost up to several hundred thousand dollars per year), and as many speakers at the Tech Expo noted, they are not a "magic wand;" significant in-house compliance work is still required. The predictive models offer a template of sorts which the internal team can then use to inform the actual, manual mapping. The platforms which automate supplier communications take out this manual component, offering significant time savings for in-house personnel; however, companies often want to exercise great care when communicating with their supplier base in China due to local legal and reputational risks. Companies should also consider whether they have sufficient in-house resources to assess the results of mapping and due diligence across all of their global supply chains, and whether failure to remediate issues identified – be they related to the UFLPA, sanctions, or other laws – based on data now in the company's possession could expose the company to other legal risks.3
DNA, Isotopic, and Other Testing
We heard from a variety of providers that offer technical solutions for testing the origin of products or materials. The technologies include, among others, isotopic testing of products to determine the origin of the raw material, spraying raw materials with water-soluble DNA solutions, and applying machine-readable markings to products. 
Observations: These technologies are fascinating, but in our view the offerings remain a year or more out from effective deployment to demonstrate the provenance of the materials (i.e., to show CBP that imported goods fall outside the scope of the UFLPA). The one exception to this rule is isotopic testing of apparel and other cotton-based products, which some importers are already including as one component of UFLPA admissibility packages. The primary hurdle here is demonstrating to CBP that the materials tested come from the same batch of products as those detained – as one provider discussed, relying on these tests to demonstrate admissibility requires "strict chain of custody standard operating procedures" to tie the test to the detained goods. In our experience, even when the importer has conducted isotopic testing, traceability documentation is nonetheless required to successfully challenge a detention notice.4    
Due Diligence (Supplier Screening)
Several providers focus solely on traditional supplier screening, without a sub-tier supplier mapping component. These providers focus on identifying exposure to sanctions lists (including the UFLPA Entity List), evidence of sourcing from the XUAR, evidence of corporate or beneficial owners' affiliation with entities located in the XUAR, and (to varying degrees) evidence of participation in labor transfer programs deemed problematic under the UFLPA. Nearly all of these providers tout their Chinese-language search capabilities and "crawling" of Chinese corporate records. 
Observations: These providers can help companies quickly and efficiently identify red flags. Several of the platforms are used by CBP and other government agencies, lending them additional credibility. Note that many of the due diligence platforms won't connect the dots into a supply chain map, which is increasingly a critical component of UFLPA due diligence for high-risk products and high-risk components, and in-house personnel would thus be required to manually map the supply chain to complement the due diligence service. There are also some important distinctions among the different providers; for example, some focus on primary source information, whereas others also include NGO reports/other secondary sources. We know that CBP relies, at least in part, on NGO reports to inform its targeting, so it would be important to supplement diligence on a primary source screening platform with another provider or with manual review of NGO reports.
Finally, when assessing the fit of a given provider, companies should consider how the platform categorizes and characterizes risk. What factors make a supplier "high-risk" versus medium- or low-risk? Is a mere tangential or minority ownership in a Xinjiang-based entity automatically classified as high-risk or tagged as "forced labor"? This can create challenges for in-house counsel, and may indicate that the flagging is not appropriately calibrated for effective UFLPA risk assessment. Consider whether the provider allows companies to contribute to how red/yellow flags are classified and escalated.
Automated Enhanced Due Diligence
Particularly for importers in high-risk industries (e.g., solar, apparel, automotive, and flooring) or importing high-risk products (e.g., products made with polysilicon, cotton, aluminum, steel, and PVC), a UFLPA compliance program will likely need to incorporate heightened due diligence. Companies should conduct heightened due diligence when the baseline supplier screening (such as via the tools discussed above) identifies red flags of sourcing from the XUAR, UFLPA Entity List entities, or companies engaged in certain types of labor transfer programs. Heightened due diligence typically requires supplier outreach and may include issuance of supplier self-assessment questionnaires and social compliance audits. Several providers that presented at the Tech Expo aim to help companies issue supplier questionnaires, aggregate the data, and track remediation efforts.
Observations: These activities may present concerns under China's Anti-Foreign Sanctions Law. UFLPA compliance typically requires some form of supplier engagement, but it should be done with care. Companies should consider their risk tolerance for regulatory or reputational backlash in China when engaging providers that conduct supplier outreach at scale. Consider consulting with local Chinese counsel on potential risk mitigation strategies before engaging in these activities (particularly at scale). 
The Future of Enforcement and CBP's Expectations of Importers 
UFLPA enforcement continues to increase, both in terms of volume and in the expansion to new sectors. CBP shows no signs of lowering its expectations of importers to map their supply chains, identify any connections to the XUAR, and trace products down to the raw materials. CBP views UFLPA enforcement as a "moral imperative" and a mechanism for combatting unfair trade practices. This week showed the extent to which private industry is evolving to meet CBP's expectations. 
With the Tech Expo and recent updated UFLPA guidance, CBP is clearly making a concerted effort to give importers more tools to anticipate and respond to detentions. The new technologies expand companies' abilities to identify risks of enforcement under the UFLPA, but they will also require expanded budgets; most of the providers are subscription-based models with fees ranging from tens to hundreds of thousands of dollars per year. 
Companies should consider their risk profile, budget, and internal resources/specific needs when considering potential technical solutions. Tech Expo speakers stressed that technical solutions should be viewed as a supplement to broader anti-forced labor compliance programs – no single platform can effectively identify all UFLPA risks, and no solution offers a "magic wand" to ensure a clean supply chain or prevent UFLPA detentions. Regardless of whether companies employ a technical solution to assist with compliance initiatives, the professionals utilizing it must implement a clear process for risk-based due diligence with established thresholds for heightened due diligence where warranted. We look forward to watching the diligence technologies continue to advance and to helping our clients choose the solution that best meets their needs for responsible sourcing compliance.
---
Contact us for further details on how Miller & Chevalier's Business & Human Rights and Customs & Import Trade practices are helping companies develop strategic approaches to anti-forced labor and compliance:
Richard A. Mojica, rmojica@milchev.com, 202-626-1571
Mary H. Mikhaeel, mmikhaeel@milchev.com, 202-626-5909
Virginia S. Newman*
*Former Miller & Chevalier attorney
------------
1See U.S. Customs and Border Protection, Uyghur Forced Labor Prevention Act Statistics
2"Supply chain mapping" refers to the process of identifying all suppliers in the supply chain for a given product or input, from raw material to finished good.
3For example, as noted in the UFLPA Enforcement Strategy, failure to take "appropriate remedial action" can expose an importer to potential criminal liability if the company continues to benefit from participating in a venture engaged in forced labor "while knowing of or recklessly disregarding the forced labor." See 18 U.S.C. § 1589(b).
4See also U.S. Customs and Border Protection, FAQs: Uyghur Forced Labor Prevention Act (UFLPA) Enforcement ("CBP will consider laboratory test results as part of the total package of information submitted by an importer to document a supply chain.").
---

The information contained in this communication is not intended as legal advice or as an opinion on specific facts. This information is not intended to create, and receipt of it does not constitute, a lawyer-client relationship. For more information, please contact one of the senders or your existing Miller & Chevalier lawyer contact. The invitation to contact the firm and its lawyers is not to be construed as a solicitation for legal work. Any new lawyer-client relationship will be confirmed in writing.

This, and related communications, are protected by copyright laws and treaties. You may make a single copy for personal use. You may make copies for others, but not for commercial purposes. If you give a copy to anyone else, it must be in its original, unmodified form, and must include all attributions of authorship, copyright notices, and republication notices. Except as described above, it is unlawful to copy, republish, redistribute, and/or alter this presentation without prior written consent of the copyright holder.